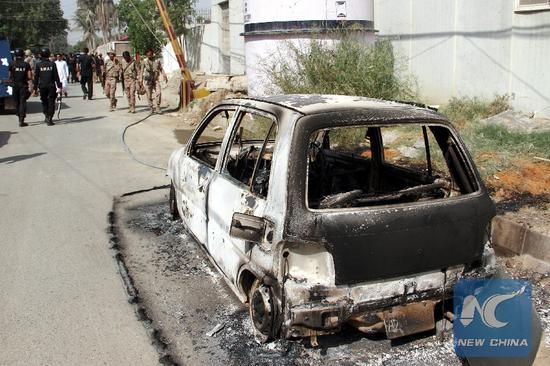 A burned out vehicle is seen at the attack site in Karachi, Pakistan, on Nov. 23, 2018. At least five people including two policemen were killed on Friday morning in a terrorist attack in the diplomatic area in Karachi, police and hospital officials said. (Xinhua/Stringer)
UN Secretary-General Antonio Guterres has condemned Friday's terrorist attacks at the Chinese Consulate-General in Karachi and a market in Khyber Pakhtunkhwa province, Pakistan.
Guterres extended his deep condolences to the families of the victims and wished a speedy recovery to those injured. He also sent his deepest sympathies to the government and people of Pakistan, said his press office in a statement.
Guterres expressed the hope that those responsible for the attacks will be swiftly brought to justice.
Five people were killed in the attack on the Chinese Consulate-General in the southern Pakistani city of Karachi. The attackers were killed before they were able to break into the compound.
At least 25 people were killed in a separate attack in the Orakzai region of Khyber Pakhtunkhwa province in the northwest.