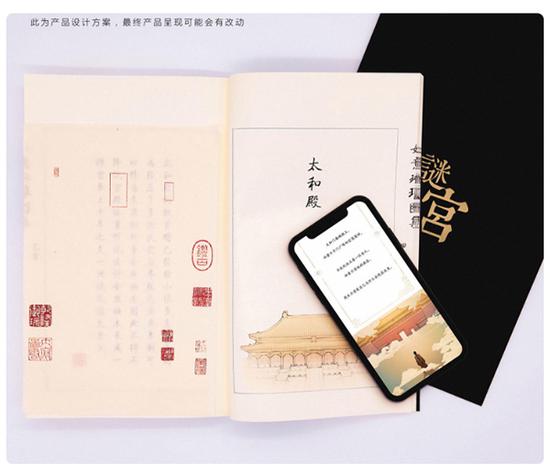 Migong: Ruyi Linlang Tuji offers an interactive experience through reading and online gaming. (Photo/Palace Museum)
An interactive puzzle-solving game book, Migong: Ruyi Linlang Tuji (Mystery Palace: Map of Treasures in the Palace), which looks deeper at the life of Emperor Qianlong of the Qing Dynasty (1644-1911), will be published by the publishing house of the Palace Museum.
Legend has it that a book by the name of Ruyi Linlang Tuji by a palace artist was discovered in the Forbidden Palace in 1766, the 31st year during Qianlong's reign. The book was so difficult to decipher that it was deemed "useless" and then it disappeared.
Later, rumors started spreading that Ruyi Linlang Tuji actually contained the location of treasures inside the Forbidden Palace, treasures so rich to change the course of one's life.
Zhou Ben, who was a nameless artist in the Palace, one day inadvertently discovered the book among a pile of papers. Having heard the rumor, Zhou made up his mind to find the treasures, little knowing the obstacles he would face and the intricate palatial battle he would entangle himself in during the process.
More than two centuries later, the Palace Museum is now giving readers a chance to be Zhou Ben across time and space through the release of Migong: Ruyi Linlang Tuji. Readers can now flip through the pages of labyrinth of perplexities, decode hints and discover the whereabouts of hidden treasures.