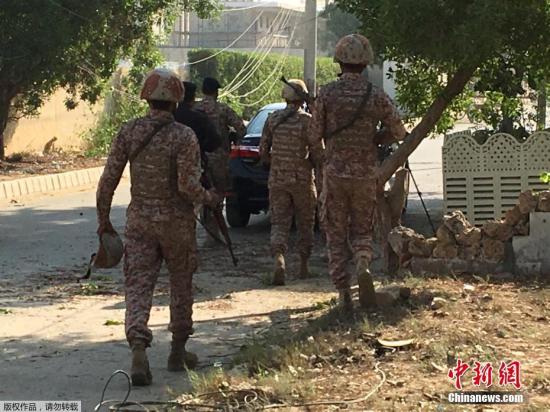 Pakistani police officers are seen near the Chinese embassy in Karachi, Pakistan November 23, 2018. (Photo/Agencies)
The Chinese Embassy in Pakistan confirmed on Friday an attack against the Chinese Consulate-General in Karachi in south Pakistan, and strongly condemned the terrorist attack, adding that all Chinese nationals in the diplomatic compound are safe.
The embassy also expressed the condolence to the two policemen killed during the attack, according to a statement from the embassy.
Police and security forces said they have completed the operation in the site, where also several foreign missions are located in.
All three terrorists involved in the attack were killed, according the Inter-Services Public Relations (ISPR), the media wing of Pakistan army.
Pakistani Prime Minister Imran Khan has condemned the attack and ordered a complete inquiry into the incident and has desired that elements behind the incident must be unearthed.
Pakistani Foreign Minister Shah Mahmood Qureshi condemned the attack and said police and security forces responded promptly and eliminated all the militants involved in the attack.
At least seven people, including two policemen, two civilians and three terrorists, were killed in the attack, police said.
Javed Alam, deputy inspector general of police of karachi south region, said that three terrorists armed with automatic guns, hand grenades, suicide jackets and explosive devices reached the area in a white colored vehicle and opened fire at the police personnel deployed for security in the Chinese diplomatic compound in the Clifton area of Karachi.
The heavily-guarded area is considered a red zone, and it is home to a number of upscale restaurants and schools.
Director of the Jinnah Hospital Karachi Seemi Jamali told media that overall five bodies and one injured have been shifted to the hospital so far.
Soon after the attack, police and security forces rushed to the site and cordoned off the area and launched an operation against the terrorists. All roads leading to the diplomatic area were blocked for public and media.
Following the gunshots and blasts of hand grenades, heavy smoke was rising from the site.
According to the reports, the terrorists also torched three vehicles present at the site.
An eyewitness said that three terrorists reached the area and started firing and also hurled hand grenades at the police personnel.
Police, security forces and the bomb disposal squad have cleared the area after search operation and diffusing the explosive devices planted by the terrorists, police said.
A heavy cache of explosive material, weapons, bullets, dry fruits, first aid medicines and some electronic gadgets were also recovered from the possessions of the militants.
An outlawed militant organization, the Balochistan Liberation Army, has claimed the attack. However, there is no official confirmation about the claim yet.