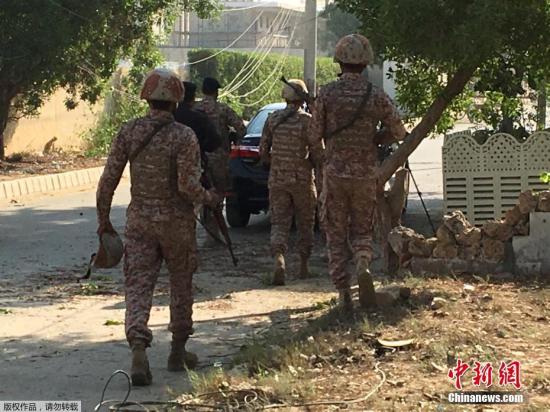 Pakistani police officers are seen near the Chinese embassy in Karachi, Pakistan November 23, 2018. (Photo/Agencies)
Three suicide bombers attacked the Chinese consulate in Pakistan's southern city of Karachi early on Friday, leading to an intense hourlong shootout, the city's police chief said.
Two police officers and two civilians died, according to Pakistani English-language newspaper Dawn, and all three assailants were killed. All the Chinese diplomats and staff members at the consulate were safe and unharmed.
Foreign Minister Wang Yi, in a phone call after the attack with his counterpart Shah Mahmood Qureshi, said China strongly condemns any violent attacks against diplomatic agencies and demands that Pakistan pay great attention to the incident and conduct a thorough investigation to prevent similar attacks.
He said China expresses gratitude for the quick action of police in Pakistan, offers condolences for the deaths of the security personnel and conveys sympathy to their families.
He emphasized that any attempt to undermine China-Pakistan friendship will not succeed, and Pakistan certainly has the ability to maintain domestic security and stability.
Foreign Ministry spokesman Geng Shuang asked that Pakistan take practical measures to ensure the safety of Chinese citizens and institutions in the country.
Pakistani Prime Minister Imran Khan strongly condemned the attack, saying he has ordered an investigation. He vowed in a statement that such incidents will never undermine Pakistan's relations with China.
He also lauded Karachi police and the paramilitary ranger forces, saying they showed exceptional courage in defending the consulate, adding that "the nation salutes the martyrs".
Pakistani Foreign Minister Qureshi also condemned the attack and said police and security forces responded promptly and eliminated all the attackers.
He told Wang that Pakistan will take all necessary measures to eliminate terrorist violence and will protect the safety of Chinese in the country, just as it protects its own citizens.
The attackers stormed the consulate shortly after 9 am during business hours. They first opened fire at consulate guards and then managed to breach the main gate and enter the building, said Mohammad Ashfaq, the local police chief.
Pakistani security forces quickly surrounded the area. Local TV images showed smoke rising from the building, which also serves as the residence of Chinese diplomats and other staff members. The situation was brought under control around an hour after the shootout began.
Hours after the attack, a powerful bomb at an open-air food market in the Orakzai region of Khyber Pakhtunkhwa province, which borders on Afghanistan, killed 31 people and wounded at least 50, according to Pakistani authorities.