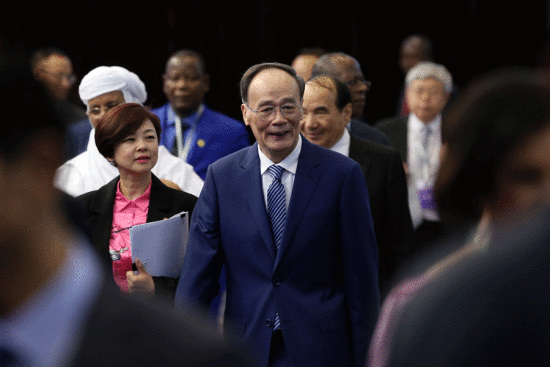 Vice-President Wang Qishan attends the Third Forum on China-Africa Local Government Cooperation in Beijing on Tuesday. About 400 people were attracted to the forum. (WANG ZHUANGFEI/CHINA DAILY)
Vice-President Wang Qishan highlights areas like poverty eradication at forum
China will support Africa's development by passing along experiences from its own development, Vice-President Wang Qishan said on Tuesday in Beijing.
Under the framework of the Forum on China-Africa Cooperation, local governments in China and Africa carry out exchanges and cooperation focusing on poverty alleviation and sustainable development, Wang said at the opening ceremony of the Third Forum on China-Africa Local Government Cooperation.
"It will promote the implementation of the China-Africa comprehensive strategic partnership of cooperation," Wang said.
The two-day forum that started on Monday was attended by about 400 people from government and private organizations. It was co-hosted by the Chinese People's Association for Friendship with Foreign Countries and the United Cities and Local Governments of Africa.
Wang said China will unswervingly implement the mutually beneficial opening-up strategy to realize the rejuvenation of the Chinese nation.
China is still a developing country, he said, adding that unbalanced and inadequate development remains a major contradiction.
China still faces the arduous task and challenge of winning the tough battle against targeted poverty and ensuring the impoverished people will not be left behind in the nationwide pursuit of a moderately prosperous society, he said.
Bilateral trade volume between China and African nations reached $170 billion last year, and China's growth in imports from Africa is up 32 percent. Between them, they have established 135 "sister ties" at provincial and city level.
Niger Prime Minister Brigi Rafini said at the opening ceremony that Niger should further encourage, emphasize and promote local-level cooperation with China.
Former Tanzanian prime minister Salim Ahmed Salim said that apart from passing on experience, China is also helping Tanzania in developing its economy and building infrastructure.
Salim, also chairman of the Tanzania-China Friendship Promotion Association, said Tanzania hopes to strengthen communication at the local level with China to improve the governance system as well as to serve the people.
Wang also met with Rafini and Salim separately on Tuesday.
While meeting with Rafini, Wang said enhancing bilateral cooperation and promoting common development are shared hopes of China and Niger.
Bilateral mutually beneficial cooperation in various fields recently has witnessed vigorous development and China is willing to push forward China-Niger relations to a higher level, Wang said
Rafini said that Niger is happy to see China's growing importance in the international community and hopes to learn from China's development experience.
While meeting with Salim, Wang said China would like to promote bilateral ties to move forward through concrete cooperation projects.
Salim said he hopes the countries will deepen exchanges and cooperation at all levels and continue to consolidate and develop their traditional friendship.