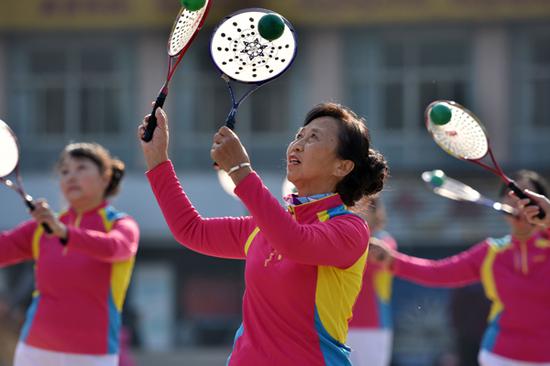 Retirees and homemakers practise taichi at a playground in Chaohu, Anhui Province. (Photo by Li Yuanbo/For China Daily)
China has just approved 14 Chinese asset managers to float pension target securities investment funds, a move to improve A-share market liquidity and offer the nation's middle-income earners more diversified pension management solutions.
China Asset Management Co Ltd, China Southern Asset Management Co Ltd, Bosera Asset Management Co Ltd, E Fund Management Co Ltd and 10 other asset management companies became the first batch to receive regulatory approval, according to the China Securities Regulatory Commission on Monday.
People close to China Asset Management Co Ltd said the pension target securities investment funds will start to be sold as soon as this week. The first batch of funds will adopt the fund of funds strategy, an investment strategy of holding a portfolio of other investment funds rather than investing directly in stocks, bonds or other securities.
The China Securities Regulatory Commission published guidelines in March for the introduction of Western-style pension target funds. From April 11, 22 Chinese asset managers had applied for 43 pension target securities investment funds.
CSRC said qualified asset managers can launch two types of pension target funds, a target date fund and a target risk fund. The target date fund seeks to grow assets over a specified period of time for a targeted goal. The target risk fund is a type of asset allocation fund that holds a diversified mix of stocks, bonds and other investments to create a desired risk profile.
"It's a piece of good news for the A-share market as the liquidity will be improved," said Hong Hao, chief strategist at BOCOM International Holdings Co.
But Hong said although such fund-of-funds pension products are popular in mature markets like the United States, China should also carry out supportive policies that are now lacking, such as preferential tax treatment.
Hao Yansu, director of the school of insurance at the Central University of Finance and Economics, agreed with Hong that the move will benefit the Chinese stock market in the mid- and long-term, but more supporting policies are needed for the global asset allocation of such funds.
Hao said China's pension coverage is heavily reliant on State funding, and the burden should be shared between the government, employers and individuals.
"Pension target securities investment funds can be a financial solution for China's middle-income earners to better manage their senior years," said Hao.
Dan Houston, chairman and CEO of global financial investment management company Principal Financial Group, said earlier he has great confidence in the nation's huge pension market, and the challenges for the company in developing its business in China include persuading employers to adopt enterprise annuities and making Chinese people comfortable about using the sector's products to invest for the long term.
A report by the China Aging Finance Forum said that the country's pension funds were worth more than 5 trillion yuan ($741.3 billion) at the end of 2016 and the market is estimated to exceed 10 trillion yuan by 2020.