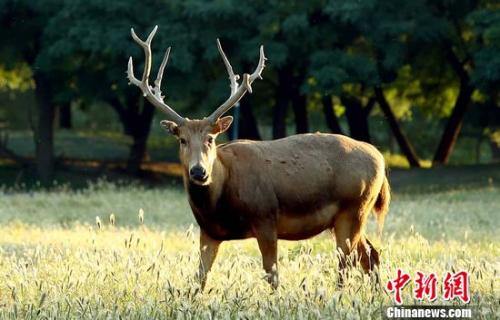 A Milu is seen at the Milu Park in Beijing's Daxing District . (File photo/China News Service)
(ECNS) - The Père David's deer that narrowly avoided extinction has been proposed as mascot candidate for the 2022 Beijing Winter Olympics.
A global campaign to select the mascot will end on Oct. 31, according to the Beijing Organising Committee for the 2022 Olympic and Paralympic Winter Games (BOCWOG).
One of the designs BOCWOG collected was inspired by the Père David's deer, known as Milu in China. Milu, under first-class animal protection, can run or swim fast, and is agile in an ice and snow environment.
Zhang Xiaodong, deputy dean of the School of Design and Art at the Beijing Institute of Graphic Communication, said Milu's characteristics make it a perfect fit for ice and snow sports.
Zhang added he featured the deer's antler in the design and tried to make the mascot lovely, humble and cute.
The team started design from August this year and spent more than two months on its creation.
The Chinese character for deer, lu, is also a homophone for the character meaning fortune and lucky.
Milu park in Beijing's Daxing District has made strides in breeding and protection of the species.