(ECNS) -- A newly opened American-style Chinese Cuisine restaurant has unexpectedly gone viral on Chinese social media, drawing throngs of young foodies, especially those with overseas experiences. But here is the catch -- the real challenge lies in converting short-term fancies into sustained popularity.
Located in a food court in Chaoyang District, Beijing, this stall greets customers with two red lanterns at the entrance and terracotta warrior sculptures under the cashier counter, offering bilingual menus in Chinese and English.
On popular Chinese food review websites, this small eatery has achieved a rating of 4.1 out of 5, featuring 12 recommended dishes, including General Chicken, Sesame Orange Chicken, Crab Rangoon, Fortune Cookies and other signature American-style Chinese offerings.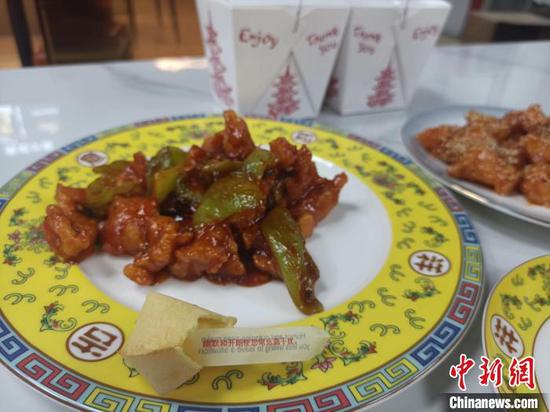 An American-style Chinese Cuisine restaurant in Beijing serves General Chicken, Fortune Cookies and other signature American-style Chinese offerings. (Photo: China News Service/Li Meng)
Dubbed the "Ninth Culinary Cuisine Traditions of China," American-style Chinese Cuisine originated from traditional Chinese dishes adapted to suit the palates of most Westerners after Chinese cuisine gained popularity in the United States. Consequently, its cooking and seasoning methods have diverged from traditional Chinese cuisine.
Xu Yinhao, the owner of this restaurant, believes that American-style Chinese Cuisine is characterized by a pronounced sweet and sour taste, exemplified by the tangy flavor of vinegar in Sesame Orange Chicken and the distinct sweetness of the American version of Mapo Tofu, which differs from traditional Sichuan cuisine.
He further explains that while traditional Chinese cuisine emphasizes "wok hei", the Cantonese name for the intense heat from stir-frying to infuse flavors into the ingredients, American-style Chinese Cuisine often features dishes with sauces poured on top.
In the United States, many overseas students and Chinese Americans are not particularly fond of American-style Chinese Cuisine. However, with its emergence in Beijing, the restaurant has managed to attract numerous young patrons eager to explore and share their experiences through online posts and reviews. Most of the visitors currently are young returnees from overseas studies, as well as some foreigners and enthusiasts of American TV shows.
When dishes like General Chicken, Sheldon's favorite from the TV series "The Big Bang Theory," are served in distinctive square white take-out boxes, some customers are willing to pay a premium for the novelty.
A custom surnamed Yang, who is a recent returnee from the U.S., says that almost all students studying abroad have used these kinds of packing boxes.
She added that while American-style Chinese Cuisine differs significantly from traditional Chinese dishes, it is not all about the stereotypical perception of being "unappetizing".
On Quora, the topic of American-style Chinese Cuisine has garnered over five thousand discussions, with both Chinese and foreigners expressing their love for these dishes.
Even The New York Times published an article in June, exploring why American-style Chinese Cuisine deserves respect.
Local Chinese chefs interviewed by NBC news stated that while Orange Chicken may not adhere to the standards of traditional Chinese cuisine, it still reflects authentic Chinese cooking techniques.
Nonetheless, some netizens question the necessity of indulging in American-style Chinese Cuisine when there are so many delicious Chinese dishes in China.
Chen Liping, a professor of the Department of Marketing at the Capital University of Economics, commented that American-style Chinese Cuisine is one presentation of fusion cuisine—a product of blending traditional Chinese dishes with the culture of the host country.
With the rising consumption power of Gen Z and an increase in opportunities for studying, traveling, and working abroad, internationalization of the culinary scene is a natural and inclusive trend.
Chen believes that the development of fusion cuisine will go through stages of curiosity, acceptance, and further evolution. For "American-style Chinese Cuisine," which currently is in the curiosity stage, more consideration is needed from a sustainable and objective perspective.
The challenge for American-style Chinese Cuisine in China lies in transforming short-term popularity into lasting appeal, requiring restaurant owners to embrace its fusion characteristics.
Chen suggests that rather than duplicating the exact style from the U.S., American-style Chinese Cuisine should be adapted to suit Chinese tastes to achieve long-term development in China.