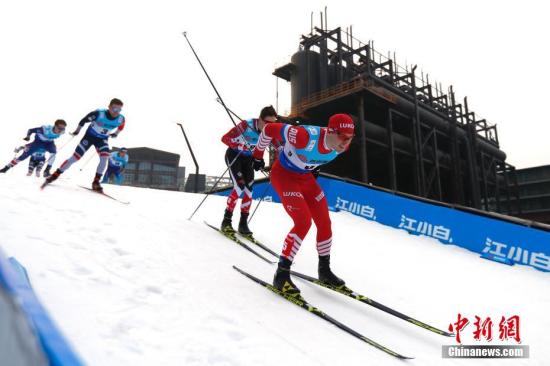 A skiing match is held in Beijing, March 2, 2019. (Photo/China News Service)
Traditionally rural event rips up rulebook with Beijing showcase
From a former Summer Olympics venue to an abandoned steel mill, cross-country skiing was showcased in some unorthodox places in Beijing last Friday, Saturday and Monday.
Perhaps more impressively, it managed to do so under the glare of a warm spring sun.
With the International Ski Federation (FIS) keen to promote the Nordic sport among Chinese urbanites in the run-up to the 2022 Winter Olympics, a three-leg sprint series visited the capital, where competitors raced on tracks of artificial snow.
Starting with a 1.7-kilometer race on Friday at the Olympic Park, the series continued with Saturday's 1.57km sprint at the Shougang industrial complex, which is being converted into a 2022 Games venue, before concluding with a 1.4km race in northwest Beijing's Yanqing district on Monday.
About 200 athletes from 21 countries, including traditional powers Norway, Sweden and Russia, battled for men's and women's individual titles at each of the three stops, which offered 1.5 million yuan ($223,720) in total prize money and FIS ranking points.
The FIS hopes the city sprint-a shorter, quicker and more compact form of cross-country skiing-will help broaden the sport's appeal beyond its Scandinavian roots.
Meanwhile, Beijing's strong focus on harnessing the legacy of the 2008 Games gave the event a unique crossover flavor.
"It's really cool for athletes to be here-a place with so much Olympic history," retired Olympic champion Kikkan Randall told China Daily after competing in the Bird's Nest leg as a guest.
"I still remember watching the 2008 Olympics on TV and now I am here racing. It's cool for the FIS to bring our sport here in the same space," added the 36-year-old, who paired with Jessica Diggins to win the United States' first cross-country Olympic gold in women's team sprint at the 2018 Pyeongchang Games.
The jewel of the 2008 Olympics, the Bird's Nest will be refurbished to host the opening and closing ceremonies of the 2022 Winter Games, while Shougang park and Yanqing's mountain cluster will host snowboarding big air, alpine skiing and sliding sports such as luge.
Randall, now a member of the International Olympic Committee's athletes commission, hopes Team China can emulate her medal heroics in three years' time.
"What we did for the American team is a similar situation to China," said Randall, who is battling breast cancer since being diagnosed last May.
"You are up against the big nations but if you put in the hard work and work together like we did, it's possible. It's fun to watch the Chinese skiers do the same thing."
Cheered by local fans, China's new breed showed they are getting up to speed with the grueling sport.
Teenager Dinigeer Yilamujiang from northwest China's Xinjiang Uygur autonomous region finished second in the opening women's leg to become the first Chinese medalist in the sport at any FIS-level event.
"I am super excited to be able to finish my first international race with a result that I didn't expect at all," said the 18-year-old, who learned to ski as a 5-year-old as a way of getting around her snowy hometown in Altay prefecture.
"With such city races, high-level competitions have become more accessible for us. We believe with the tutelage at overseas training camps, we can achieve more breakthroughs in the buildup to 2022."
Dinigeer, a former high school distance runner, was among a dozen youngsters selected from 170 hopefuls in Xinjiang in 2017 as part of a cross-sports development program.
China's winter sports authority has been drafting athletes from disciplines that require high levels of aerobic endurance, such as distance running and rowing, and converting them into cross-country skiers in the hope they can qualify for the 2022 Games.
The best result China achieved in cross-country skiing at an Olympics was a 16th-place finish in the women's 4x5km relay at the 2006 Turin Games.
"After two years of trying, we have already reaped rewards from this bold initiative. It's proof that we are heading in the right direction on this specific program," said Zheng Liangcheng, a vice-chairman of the Chinese Skiing Association.