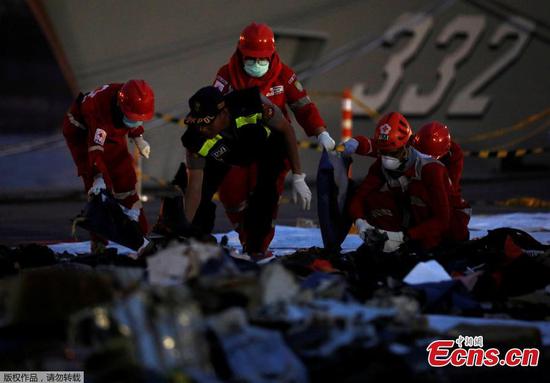 Rescue workers of the crashed Lion Air flight JT610 sort out newly recovered debris at Tanjung Priok port in Jakarta, Indonesia, Oct. 30, 2018. The search continued Tuesday for bodies and the "black box."(Photo/Agencies)
An object suspected to be the fuselage of the crashed Indonesia Lion Air plane was located, Indonesian military commander Air Marshall Hadi Tjahjanto said on Wednesday.
An Indonesian navy vessel equipped with advanced sonar instrument was dispatched to the location to confirm whether the object was the fuselage of the Lion Air JT 610 flight, which crashed into the sea off Karawang in Indonesia's West Java province Monday morning.
"Now we will focus our search on object in the seabed that we suspect part of JT 610," Hadi said in the search center in Tanjung Priok seaport.
He did not give details to the exact location of the suspected plane wreckage.
The object was 22-meter long, 5-meter wide and 10-meter high.
The passenger jet en route to Pangkal Pinang with 189 people onboard crashed shortly after taking off from Jakarta's Soekarno-Hatta international airport on Monday morning.
The Boeing 737 Max 8, a brand new version of the 737 model, was manufactured this year and was put into operation in mid-August, according to the low-cost airline.