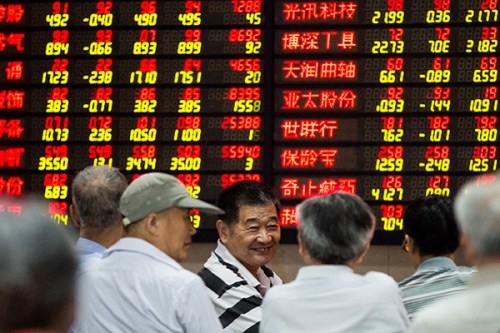 Investors examine stock prices at a security brokerage in Nanjing, capital of Jiangsu Province. (Photo/China Daily)
Index provider MSCI Inc will announce the semi-annual adjustment of its equity indices next week, which will change the representation of Chinese stocks in the MSCI system before the official inclusion of China's A shares into its emerging market index on June 1.
The New York-based firm said that it will post the list of stocks added and deleted from its indices including the MSCI China A Onshore Indexes and the MSCI China All Shares Indexes on May 14.
The adjustment could be of great significance for the Chinese market as it will determine the final list of Chinese A shares to be included in its emerging market index in June. It is also likely to bring significant changes to the representation of overseas-listed Chinese stocks in the indices, investment bank China International Capital Corp said in a research note.
An estimated 229 A shares could be included in the MSCI system, and the newly added stocks could be from high-performance sectors such as health and consumption. Stocks that may be deleted from the indices could be from the securities business and cyclical sectors such as mining and resources, according to CICC.
China's A shares are scheduled to be included in the MSCI Emerging Markets Index on June 1. The index, tracked by about $1.7 trillion of international assets, is one of the benchmark indices followed by global fund managers who wish to have an exposure to emerging markets equities.
The inclusion has been hailed by international investors as a milestone event as it heralds the further integration of the Chinese market into the wider global financial system.
Global investors have shown increasing interest in the capital markets of the world's second-largest economy and sectors such as the internet, technology, alternative energy and automobiles in the nation have been very appealing to international asset managers who wish to tap into the vast growth potential.
International capital allocated to Chinese stocks could rise to $40 billion after the inclusion of A shares in the MSCI emerging market index, according to Jing Ulrich, managing director and vice-chairwoman of JP Morgan, Asia-Pacific.
"I learned through communication with many investors that they are ready to take the initiative to increase the allocation of China's A shares," Ulrich said.
"China's economic volume is very large and it is now aimed at higher quality growth. We believe that the share of the Chinese mainland stock market in the global market will gradually increase," she added.