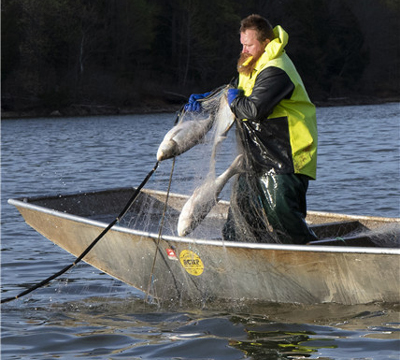 James Berry lands a carp on Barkley Lake, Kentucky.(Photo provided to China Daily)
When we met Ron Brooks at the airport in June, the researcher of fisheries said he couldn't retire this year because giant Asian carp are threatening to make the Great Lakes their new home.
It was his first visit to China for a closed-door conference on the Asian carp problem co-hosted by the U.S. embassy's agricultural trade office and the China Food Industry Association, followed by a tightly scheduled trip to fish-processing factories in coastal Weihai and Ningbo.
The trip came amid heightened trade tensions between the world's two economic titans, dimming the prospect of addressing the carp infestation in the U.S.
How has the carp become a local nuisance?
"We first realized the Asian carp problem in 2009 when one of our biologists and several fishermen caught 4,000 pounds of Asian carp as bycatch in Kentucky Lake," Brooks, director of fisheries for the Kentucky Department of Fish and Wildlife, told CGTN.
The Asian carp – comprising the bighead, black, grass, and silver carp – were introduced to the United States in the late 1970s to treat algal blooms in rivers in the country's southern states such as Arkansas and Louisiana. The species helped control weeds and parasites in catfish ponds, but turned out to be an unexpected nuisance.
In the 1990s, inclement climate patterns coupled with flooding resulted in the carps escaping into the wild, where they proliferated along the Mississippi River. Years later, they were abundant in Mississippi tributaries, all the way up to Minnesota.
Asian carp are quite reproductive, adaptive and aggressive. "They account for some 70-80 percent of all fish populations," said Ye Xiaoyang, founder of Two Rivers Food based in Wickliffe, a small Kentucky town along the Mississippi River. Asian carp crowded out native fish, caused imbalances in aquaculture, and jeopardized the country's billion-dollar sports fishing industry.
"There are so many Asian carp in Kentucky and Barkley lakes. That creates a problem because those two lakes are huge for tourism. Right now, we've seen at least a 20-percent decrease in tourism," Brooks noted.
Many fishing tournaments are held throughout the year on the two lakes, bringing hundreds of millions of dollars for local governments every year. Fishing license and permit fees also contribute to the revenue stream for this agriculture state. With Asian carps outcompeting the indigenous species favored by Americans and posing a danger for fishing enthusiasts given their big sizes, recreational fishers have begun shunning these waterways.
"And the Kentucky state government is considering canceling the fishing tournaments," Ye told CGTN.
How does the carp tell a tale of two nations?
Places all over the U.S. have been tackling the issue of overabundant Asian carp for decades, but the political and economic will to do so has been lacking. In these past few years, however, government and commercial efforts are trying to make headway. The U.S. city of Chicago, for instance, borders Lake Michigan, one of the country's Great Lakes. Authorities there are trying to prevent such carp from entering the lake by blocking the local canal system, a move that is adamantly opposed by shipping companies that use the canal to bring materials and goods through the region. Besides disrupting transportation, estimated costs go as high as 18 billion U.S. dollars.
The local efforts have largely been in vain, till some Chinese entrepreneurs spotted an opportunity in the conundrum. While Asian carp are not welcome in the U.S., they are a Chinese delicacy.
"Maybe it's not a bad idea that if we can't beat them, eat them," said Dr. Wang Changzheng, who specializes in nutrition and food science at Kentucky State University. Wang, who started a couple of research programs trying to figure out how to best utilize the fish years ago, went along with Brooks to China to exchange experiences on fish processing.
One Chinese entrepreneur they've been working with is Angie Yu, who set up Two Rivers Fisheries in Wickliffe back in 2012. The company is committed to Asian carp harvesting, processing and exporting. "She heard about Asian carp, so she came to Kentucky and we've been working very closely with her," said Brooks.
Asian carp are not yet utilized by Americans as much as by the Chinese and other Asian populations, so they could be a source of food for people across the Pacific. Besides, the Chinese business is also helping local communities by providing jobs for people to fish and process. Especially in western Kentucky where fishing contributed 1.2 billion U.S. dollars to its economy, people need the jobs out there, Brooks noted.
As for Ye, he went to the U.S. in the 1990s, moving to Wickliffe and starting the carp business three years ago. "I'm planning to make dried and smoked carp here and then sell them to China." But he's been hesitant for months, with the lengthy trade war raising tariffs on both his imports and exports.
"Because of the trade conflict, the processing equipment we purchase from China is facing a 25-percent tariff and the dried carp we sell to China also has a 25-percent tax from the previous 15 percent," he told CGTN during his stay in Beijing. He intended to get the remaining one third of the equipment back to his Kentucky factory but had to hold off on the plan because of a tariff hike.
He's one of the Chinese business people hesitant over whether to make this investment, even though local authorities have approved the establishment of the U.S.' first Asian carp industrial park in Kentucky this April. "Though the park is still undergoing infrastructure construction, there are a lot of uncertainties ahead given the constant tariffs back and forth," Ye said.
The park, once finished, will address the Asian carp problem in a systematic way and has gained support from both local and federal governments. In February, the U.S. Senate approved a bill calling for federal agencies to cope with the invasive species. However, as most companies dealing with Asian carps are Chinese, the trade row – the worst in decades – is scaring them away, reversing the positive trend.
Whether business will go on as usual largely depends on the ongoing trade negotiations. This Wednesday, China's Vice Finance Minister Liao Min will consult with the U.S. on economic and trade issues in Washington. Both sides will pave the way for higher-level negotiations next month. The conflict caught a breather last week, with U.S. President Donald Trump delaying a scheduled round of tariffs on Chinese imports while China has exempted imports such as soybeans and pork from tariffs.
As the two governments address economic and trade grievances, businesses and locals on both sides wait with bated breath.