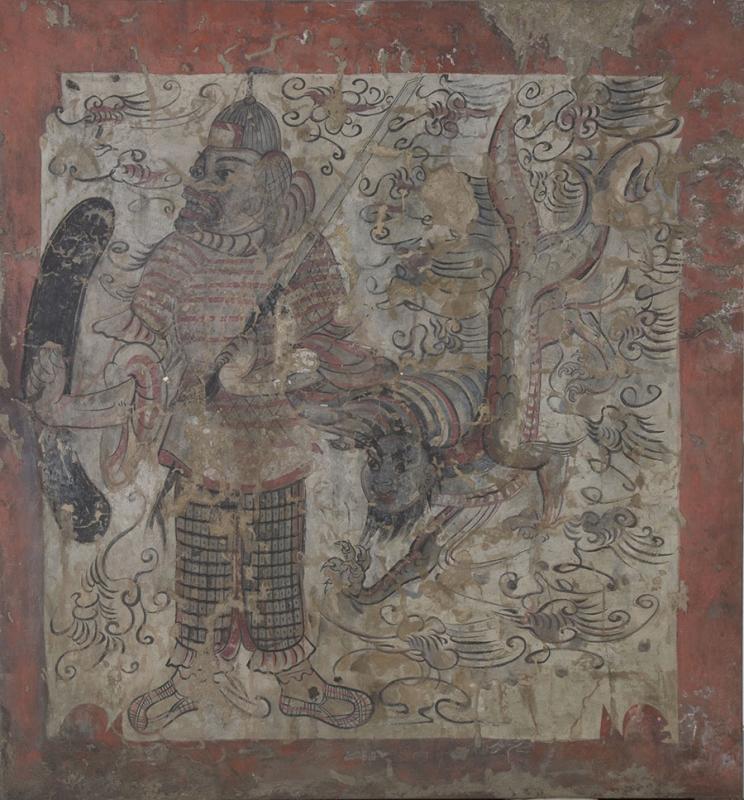 The life-size reproductions of the murals found in tombs in Shanxi province are on show at the Arthur M. Sackler Museum of Art and Archaeology at Peking University. (Photo provided to China Daily)
The current exhibition also showcases artifacts and 3-D printed copies of Buddhist statues at the Yungang Grottoes, a UNESCO World Heritage site of cave art from the fifth and sixth centuries. The artifacts have patterns and motifs similar to those found on murals and objects discovered in the Poduoluo tomb. And virtual reality, or VR, allows viewers to see three large upright statues from cave 18.
A headset and a controller takes the user to the cave: When they "look up", they can see a 15.5-meter tall Buddha in between two of his followers, standing 10 meters tall on either side.
Then, if the user presses buttons on the controller, they can "step forward" to see dozens of smaller figures in nearby niches and then "ascend" on an artificial lotus pedestal to the height of the Buddha's head, where he can enjoy a panoramic view of the cave art.
Wang says she is still enthralled by these Buddhist statues even though she has worked at the academy for many years.
"They remind me of a Chinese idiom which is Xiang you xin sheng (one's face reveals his mind and soul).
"They (the statues) have the most beautiful faces in the world. Their smiles move me to tears."
If you go
9 a.m.-5 p.m., daily through Feb. 28. Peking University, 5 Yiheyuan Road, Haidian district, Beijing. 010-6275-1668.
Prev Button
Next Button