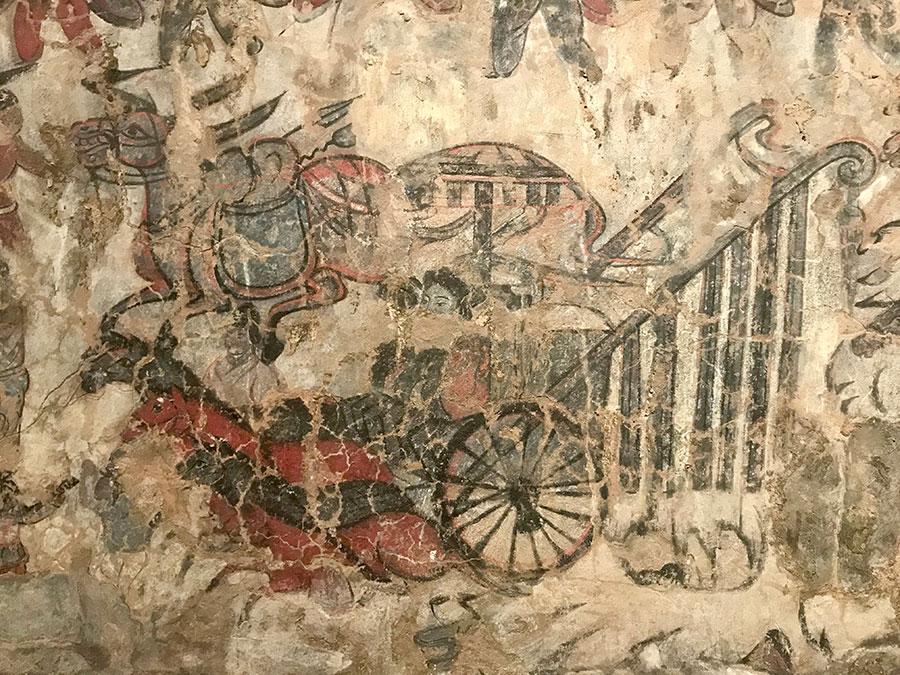 The life-size reproductions of the murals found in tombs in Shanxi province are on show at the Arthur M. Sackler Museum of Art and Archaeology at Peking University. (Photo provided to China Daily)
These murals are part of an exhibition, titled An Imaginative World of Afterlife, which showcases life in a period of nearly 1,600 years ago.
Zhang Zhuo, dean of the Datong-based Yungang Grottoes Research Academy, which manages the preservation of the Poduoluo tomb, says the exhibition title suggests that although the bulk of the murals depict how the Northern Wei's ruling class enjoyed a life of extravagance, some expressed a wish for continuing prosperity in the afterlife.
Zhang says one example of this wish for the afterlife is the three barns painted in the feast mural. He says it is unlikely that in real life there were three barns set up for an outdoor feast.
The Northern Wei Dynasty unified Northern China through assimilation, and according to Wang Yanqing, a researcher at the academy, the dynasty was short-lived but brilliant.
She says the Poduoluo tomb murals show that the Xianbei rulers adopted an all-embracing attitude toward other cultures.
She adds that while there were indications of Xianbei's customs, such as men and women wearing hats to keep warm, the arrangements of the feast and the riding troops, as well as the tomb's layout, showcased elements of Han culture.
Prev Button
Next Button