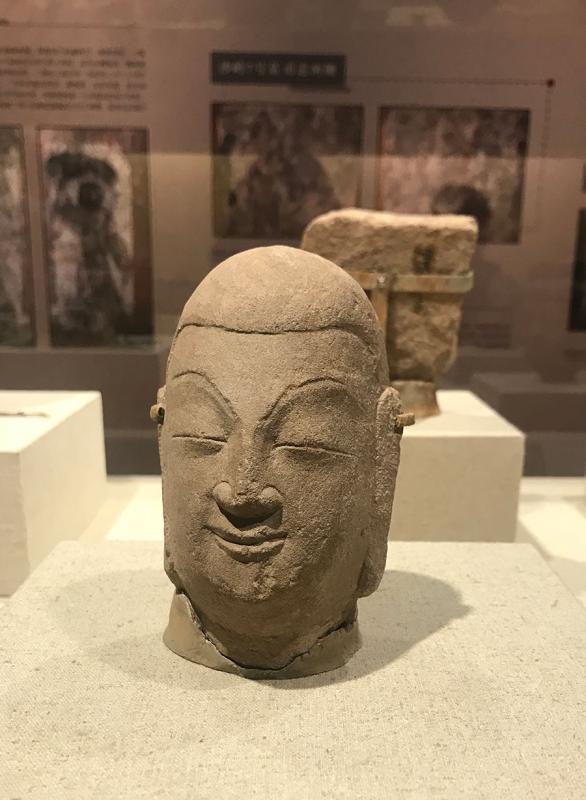 A Buddhist statue from the Yungang Grottoes is among other artifacts on show at the current exhibition. (Photo provided to China Daily)
She also says that the depiction of people sitting with their legs crossed implied a growing influence of Buddhism.
"The Xianbei people came from the dense forests of the Greater Hinggan Mountains. And they fought hard for centuries to survive, eventually, establishing their own dynasty," she says.
Wang goes further to say that the group had their own spoken language but no written characters; and that as they were surrounded by more advanced groups they had to blend in by absorbing the essence of these cultures.
"Just imagine what a marvelous scene it must be on the streets of Pingcheng," Wang says, referring to the blending of cultures.
"There would be people in various kinds of outfits, which indicated many ethnic backgrounds-the Han people and nomadic tribes and traders from central and west Asia."
The Poduoluo tomb was listed among the top 10 archaeological discoveries of China in 2005.
The top 10 discoveries have been listed in an annual appraisal carried out since 1990, and supported by the State Administration of Cultural Heritage.
Separately, Wang says studies of the dynasties established by nomadic tribes in northern China, like the Xianbei group, have made much progress in recent years.
But she says that this is not only due to major archaeological discoveries like the Poduoluo tomb, but also thanks to the cooperation of artists who have copied ancient murals and the introduction of computer technology which has helped archaeologists.
The reproduction of the Poduoluo tomb murals was undertaken by Wang's academy in collaboration with a muralist team led by Yao Zhiquan, an associate professor at the Baotou Normal College in the Inner Mongolia autonomous region, since 2016.
Prev Button
Next Button