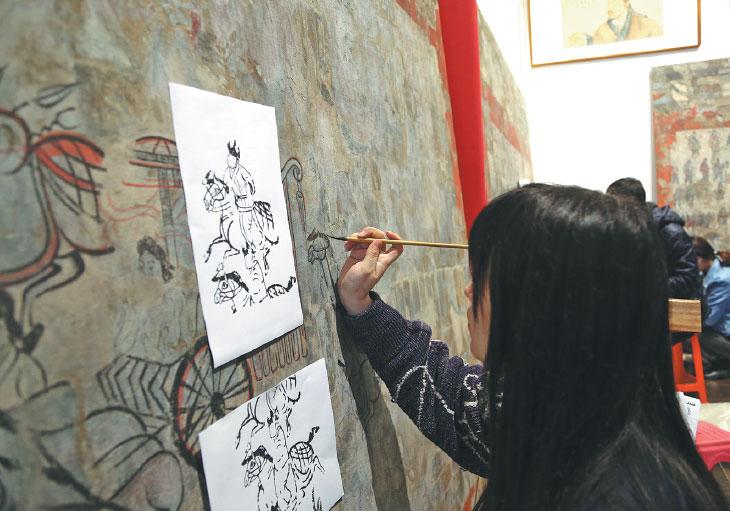 An artist works on a section of the reproduction piece of a Northern Wei Dynasty mural found in ancient tombs in Shanxi province. (Photo provided to China Daily)
Yao says his team uses pigments similar to those used by ancient painters, and thus was able to re-create a texture resembling the original murals.
Wang also says that while working the artists helped her team discover more details in the murals.
She adds that as Yao's painters re-created one of the murals on show, Traveling on Horses and Carriages, which depicts a grand scene of rows of horse-drawn carts, the archaeologists found that leading riders were also beating drums.
"We wouldn't have noticed this tiny detail, if we had not worked with Yao's team," says Wang.
Speaking about the re-creation process, Zhang says that they did not fill in missing sections of the original murals if they could not find accurate academic references.
He adds that re-creation is an important element in the preservation of tomb murals, since it causes little direct damage compared with restoration, which is difficult and risky. And with the combined assistance of quality reproductions, photos and computer technology, stationary artifacts, such as murals and statues of great weight, who can be seen by an audience who are hundreds of kilometers away.
Prev Button
Next Button