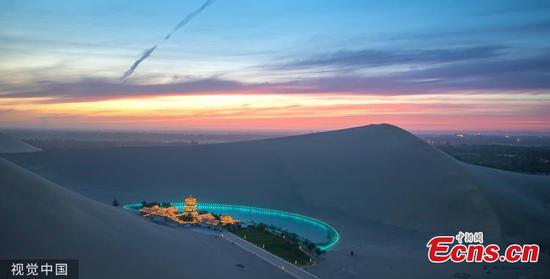 Dunhuang city in Northwest China's Gansu province, is brightened by stars when the nights falls in May, 2019. (Photo/VCG)
Dunhuang, home to the world cultural heritage site Mogao Grottoes in northwest China's Gansu Province, is now connected to China's extensive high-speed rail network after a new railway operation map was implemented on Wednesday.
Two pairs of high-speed trains run from Lanzhou, the capital of Gansu Province to Dunhuang, cutting the travel time from 13 hours to around eight hours, according to the new map.
Tourism has boomed in Dunhuang in recent years, with more than 10 million trips made to the city in 2018, up by nearly 20 percent year on year, according to local statistics.
"The high-speed rail is expected to improve passengers' experience and service quality in this hub of world cultural heritage," said Guo Lixia, with China Railway Lanzhou Group.
By the end of 2018, China's total railway operation mileage reached 131,000 km, five times higher than 1949, while the high-speed railway exceeded 29,000 km, accounting for more than 60 percent of the world's total, according to the National Bureau of Statistics.