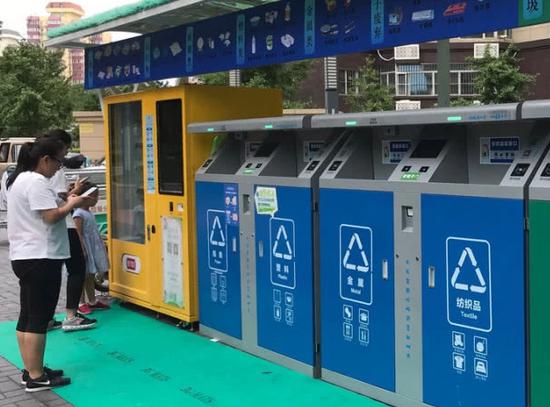 This photo shows trash bins that use face recognition for waste sorting at a Beijing residential community. (Photo / Beijing Daily)
(ECNS) -- The No. 1 Courtyard on Xinfeng Street, a residential community in Beijing's Xicheng District, is applying facial recognition as part of its drive to sort trash for disposal and recycling.
Residents look into a camera to verify their information before the dust bin opens its lid automatically. The system can also grade dumped garbage.
The smart garbage-sorting system is a pilot program initiated by the Desheng Subdistrict Office. The system has separate bins to hold seven kinds of trash including paper, plastics and kitchen waste.
The community also has an automatic system to distribute garbage bags. Residents must use their cellphones to scan a QR code to get a month's supply of free bags.
The community that started sorting trash in 2006, one of the earliest in the capital city, has about 1,900 families. With new equipment and policy support, the community's two facilities can now process 1.5 tons of kitchen waste inside the neighborhood every day.
Xicheng District plans to introduce garbage sorting in 10 residential communities before the end of the year.