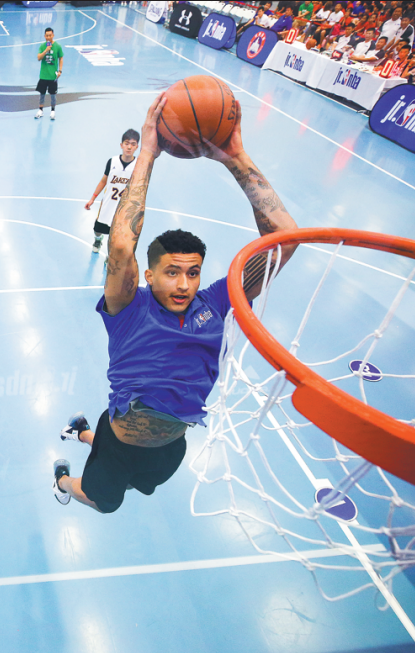 Kyle Kuzma of the Los Angeles Lakers shows Chinese students how it's done during an NBA Cares clinic, which took place on the sideline of the Jr. NBA Beijing High School League Finals at the Affiliated High School of Peking University in Beijing on Saturday. (Photo/Provided to China Daily)
Lakers star lends his advice after cheering on kids in schools final
China's young basketball talent reached for the stars on Saturday - and had a very special guest to cheer them on as they did.
Los Angeles Lakers star Kyle Kuzma even had some of the lingo down - "Jia You!" (Come on!) - as he watched the Jr. NBA Beijing High School League Finals at the Affiliated High School of Peking University in Beijing.
Tsinghua University High School beat Beijing Miyun No.2 Middle School 81-56 to claim the 15,000 yuan ($2,300) top prize, and Kuzma liked what he saw.
"Honestly, I'm really impressed," said the 22-year-old, who is visiting China for the first time as part of the NBA Cares program.
"I kind of see the elite aspect of it. Kids are trying to become professional athletes. Potentially, NBA, CBA or anywhere else. The talent gap isn't that far away.
"The biggest thing is working hard. Chinese culture is also about hard work. For me, that's what I dig into and that's the biggest reason why I made it in the NBA."
Tsinghua's Yang Xihao, who was voted the final's Most Outstanding Player after a 26-point haul, summed up the mood of the awestruck young hoopsters.
"It's amazing that Kyle Kuzma could be here," he said. "I have lots of heroes in the NBA. If I had to pick one, I'd choose Kevin Durant (of the Golden State Warriors). I want to play like him.
"I don't know how far I can go or if I can turn pro, but I will play my best now in the high-school leagues and train harder."
Unlike young Yang, however, Kuzma isn't cheering on Durant in the ongoing NBA Finals between the Warriors and the Cleveland Cavaliers. For a start, Kumza's hero is living Cavs legend LeBron James. Secondly, he's got a little jersey issue with KD.
When asked why he wears the number '0' on his shirt, Kuzma replied: "I wore 35 in college, but when I got into the NBA, I didn't want to use the same number as Kevin Durant.
"So I chose zero - start from zero."
Kuzma, who earned a spot on this year's NBA All-Rookie First Team, also held a basketball clinic for migrant students to celebrate International Children's Day and attended a Jr. NBA court-donation ceremony in Weinan, Shaanxi province, where he played one-on-one with local kids.
He isn't the only player spreading the NBA gospel this week, with Harrison Barnes of the Dallas Mavericks and Hall of Famer David Robinson, who won two NBA titles with the San Antonio Spurs, also on promotional duties from June 1-9.
With no national championships for high schools in China, the NBA hopes to help stage more competitions like Saturday's.
"Our vision is to have more tournaments like this in more cities in China so that more kids can experience the charm of the NBA," said Claire Wang, vice-president of the Youth Development Department of NBA China.
"It's great if young Chinese players can have face-to-face interactions with actual NBA stars. Listening to the personal stories of the NBA stars is a special experience for Chinese children which encourages them to pursue their basketball dreams."