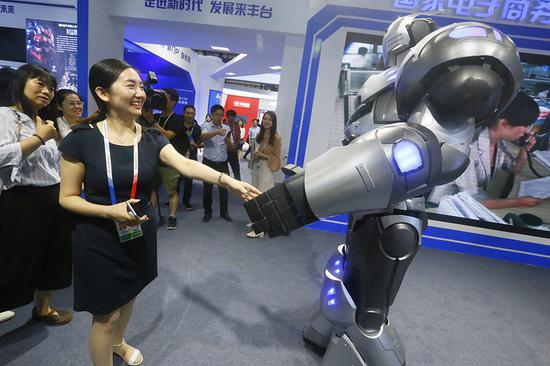 A visitor shakes an AI-powered robot's hand at the 5th China Beijing International Fair for Trade in Services on May 28. (CAO BOYUAN/FOR CHINA DAILY)
University forum shows how China could benefit from tech developments
Artificial intelligence or AI is presenting more and more opportunities to compete and collaborate in cross-border environments, and China is likely to emerge as one of the biggest beneficiaries of this trend, said experts and industrial professionals.
Denis Simon, executive vice-chancellor of Duke Kunshan University, said the State Council has provided guidance for the development of the AI technology in its longterm plan released in July 2017.
It also gave the green signal to the private sector, including small and medium enterprises, to enter the AI sector.
"As long as market forces determine which company will be successful, the China market has a great potential for developing a very strong AI capability," said Simon.
According to him, AI has the potential to break down traditional economic structures, and create more fluidity across the economy. What AI can provide is a catalyst for changing the way industries operate, and everything including the accounting industry, automobile industry, and the satellite industry, is going to see substantial impact from AI.
"This is already underway, and the only question is how far will they go, how transformative they will become," he said.
The development of AI cannot happen without close cross-border cooperation, he said. To promote such cooperation, the university organized an event on May 27.
More than 20 scientists, policymakers, multinational corporations' leaders, entrepreneurs and investors attended the Duke International Forum 2018 in Kunshan, Jiangsu province. The forum's theme was artificial intelligence as a driver of cross-border competition and collaboration.
Over the past few years, AI-related collaboration between China and the United States has been speeding up, including the one between Microsoft and Chinese universities, said Paul Triolo, practice head of geotechnology (Geo-Cyber) at Eurasia Group.
The business circles of the US have clearly taken China as a very important cooperative partner and a wide range of cooperation related to AI has already taken place in institutions as well as in the commercial sector, Triolo said.
AI development will contribute $15.7 trillion to the global economy by 2030, with China as the biggest contributor of 26 percent, followed by North America (14.5 percent), southern Europe (11.5 percent), developed Asia (10.4 percent), and northern Europe (9.9 percent), a report from PricewaterhouseCoopers stated.
According to the PwC report, global GDP will be 14 percent higher in 2030 as AI will be widely used to boost labor productivity and increase consumer demand for technology-inspired products.
The impact of AI would be on all sectors of healthcare, automotive, and exhibit huge potential for high-touch, high-frequency, and high-value products and services enabled by AI, said Rob McCargow, program leader of artificial intelligence technology and investments with PwC.
McCargow said there are five principles underlying the growth of the technology: AI should be developed for the common good and benefit of humanity; AI should operate on the principles of intelligibility and fairness; AI should not be used to diminish the data rights or privacy of individuals, families or communities; all citizens have the right to be educated to enable them to flourish mentally, emotionally and economically alongside AI; and the autonomous power to hurt, destroy or deceive human beings should never be vested in AI.
On May 27, a project for the Sino-US Science Innovation Center kicked off in the city of Kunshan, a key manufacturing hub in China and a key city in the global supply chain for industries like electronics and cell phones. Like many Chinese cities in the coastal area, Kunshan is facing a challenge in the form of continuously rising cost for labor.
"Machines have consistent, sustainable quality, over time and over quantity. They do a better job in preserving consistent quality," said Simon.