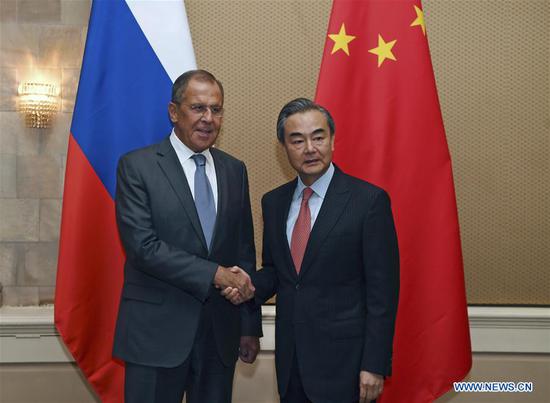 Chinese State Councilor and Foreign Minister Wang Yi (R) meets with Russian Foreign Minister Sergei Lavrov on the sidelines of the Formal Meeting of the BRICS Ministers of Foreign Affairs, in Pretoria, South Africa, June 3, 2018. (Xinhua/Chen Cheng)
Special: SCOQingdaoSummit
Russian President Vladimir Putin's upcoming state visit to China is of great significance to the planning of the next-phase growth of China-Russia relations, said China's top diplomat Wang Yi on Sunday.
Chinese State Councilor and Foreign Minister Wang Yi made the remarks while meeting with Russian Foreign Minister Sergei Lavrov on the sidelines of the Formal Meeting of the BRICS Ministers of Foreign Affairs in Pretoria, South Africa.
President Putin is scheduled to pay a state visit to China on June 8-10 and attend the Qingdao Summit of the Shanghai Cooperation Organization (SCO), said Wang.
It will be President Putin's first visit to China in a new presidential term and it will also be the first time for President Xi Jinping and President Putin to meet each other in this year, which will be of great significance to the planning of the development of China-Russia relations in the next phase, said Wang.
China is willing to enhance coordination with the Russian side in order to ensure that the visit will be successful and fruitful and inject strong impetus into the development of bilateral relations, he said.
For his part, Lavrov said Russia attaches great importance to President Putin's upcoming state visit to China.
Russia is pleased with the progress in preparations for the visit and stands ready to make joint efforts with China to ensure that the visit will meet its expected goals, said Lavrov.
During the talks, the Chinese foreign minister also said that faced with an ever-changing international landscape that is full of uncertainties, China and Russia, as comprehensive strategic partners of coordination, should further strengthen coordination and cooperation to uphold the fundamental principles of international relations, maintain international fairness and justice and protect the overall interests of emerging markets and developing countries.
China and Russia should make joint efforts to ensure that the SCO Qingdao Summit, which will be the first such summit after the SCO admitted new members, continues to promote the "Shanghai Spirit", achieve positive and practical outcomes and send out a message of solidarity, said Wang.
The two countries should strengthen strategic coordination on the platform of BRICS cooperation, hold well the Formal Meeting of the BRICS Ministers of Foreign Affairs and make good political preparations for the upcoming leaders' summit in July, Wang added.
Lavrov said that Russia fully agrees with China in its thoughts about the current international situation and is willing to strengthen coordination with China in multilateral mechanisms such as the SCO, BRICS cooperation, the Group of 20 and the United Nations.
Russia will make joint efforts with other emerging market countries to oppose unilateralism and protectionism and to safeguard world peace and stability, said Lavrov.
During their meeting, the two foreign ministers also exchanged views on the situation on the Korean Peninsula and agreed to further enhance coordination and cooperation to make efforts towards and contribute to the realization of a nuclear-free Korean Peninsula of lasting peace and stability.