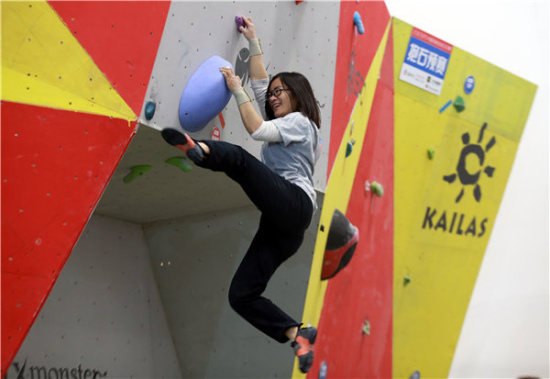 A woman climbs an artificial rock at the eighth China international mountain and winter sports machinery exposition held in Beijing. ZOU HONG/CHINA DAILY
The announcement that rock climbing will be included in the 2020 Tokyo Olympic Games has given the climbing business in China a boost, with the sport becoming a new fashionable workout for Chinese youngsters.
In 2017, about 100 new rock climbing clubs were started in the country, taking the total number to about 350, according to Sohu.com. The number of coaches has also increased by 52 percent in 2017, compared with 2016.
"We conducted detailed research before we started the rock climbing club. Our research showed us there was a surging market as the number of similar clubs doubled in Beijing last year, and sales of climbing shoes rose by 20 percent," said Wei Junjie, who established his own rock climbing club Rock Hour in Beijing last year and was one of the first to practice and promote the sport.
"We saw great potential in the rock climbing field and decided to jump in," Wei added. "As more people are becoming interested and a growing number of those are becoming more professional, the existing rock climbing clubs in Beijing could no longer meet their demands."
The rising number of rock climbing clubs is only one aspect of the growing business.
Kailas, a China-based outdoor wear brand, now aims to integrate new technology into its manufacturing and production for lighter, safer and more durable equipment to meet the growing need from its customers.
Xie Weicheng, a Kailas-contracted sportsman and rock climbing route setter, said that he is confident of continued market growth as the amount of an individual's total expenses used for basic living expenses is falling, leaving people with more money to spend on recreational activities.
"Not only rock climbing, but also parkour, sky diving, and other extreme sports are seeing market opportunities. What is happening now is that people want something new and more exciting," Xie added.
According to Xie, traveling to experience extreme sports is now becoming a trend. "My friends and I travel abroad for contests in rock climbing and other activities, and some people just want to enjoy the scenery and the sport with people who share the same interests," Xie said.
Rock climbing has also now come to schools and camps. In 2017, the Chinese Mountaineering Association gave awards to 22 elementary and middle schools in China for their outstanding efforts in promoting rock climbing and setting up related programs.
"We need more professionals and experts to promote the sport to a wider audience," Xie said.