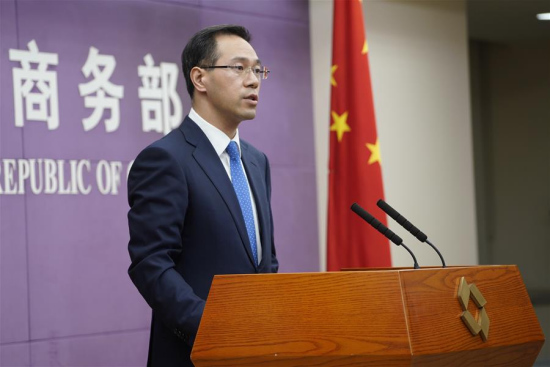 Gao Feng, spokesperson with China's Ministry of Commerce, speaks at a press conference in Beijing, capital of China, April 6, 2018. (Xinhua/Xing Guangli)
China is fully prepared and will not hesitate to strike back fiercely if the United States unveils the list of 100-billion-U.S. dollar Chinese products subject to additional tariff hikes, the Ministry of Commerce (MOC) said.
"We are not taking any options off the table," Gao Feng, spokesperson with the MOC, said at a press briefing Friday.
The remarks came after the U.S. President Donald Trump threatened on Thursday to slap tariffs on 100 billion U.S. dollars of imports from China.
Calling the move "unreasonable" and "extremely wrong," Gao said the U.S. side has misjudged the situation and will only "shoot itself in its foot."
Gao also clarified that there have been no talks over economic and trade issues between Chinese and U.S. economic officials recently.
"We have noticed that many U.S. officials have hinted that the two sides are in talks, but that is not the real case," he said.
China responded firmly to the U.S. 301 Section investigation report and its proposed tariff list and gave stronger response to its proposal for additional tariffs. Under such circumstances, it's getting impossible for any bilateral talks over this issue, Gao added.
China is ready for further escalation by the U.S. side and has prepared detailed countermeasures, according to Gao.
"It is a battle between unilateralism and multilateralism, and between protectionism and free trade as well," Gao said.
If multilateralism and free trade are threatened, the economic globalization process will be disrupted, and the global economic recovery will be severely imperilled.
"This is detrimental to the vital interests of China and even more detrimental to the common interests of the world," he said.
"Facing such a major issue, we must fight resolutely," the spokesperson said.
"Even though we are not the ones to stir up trouble, we will resolutely strike back if trouble is brought to our doorstep. Chinese people always act earnestly and deliver what we promise," Gao said.
Earlier this week, the U.S. Trade Representative office proposed imposing an additional 25 percent tariff on 50 billion dollars worth of imports from China, which drew strong opposition from business groups.
Hours after the release of the proposed tariff list, China struck back with a tariff plan of equal scale, with a list of U.S. products including soybeans, automobiles, aircraft and chemical products.
The date of implementation will depend on when the U.S. government imposes the tariffs on Chinese products, according to the Ministry of Finance.