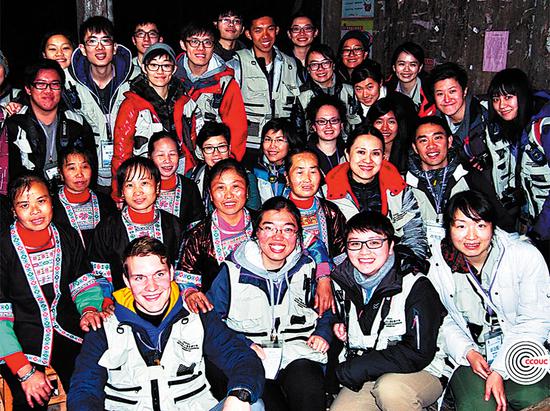 Volunteers visit Liuzhou city, Guangxi Zhuang autonomous region, to train members of the Dong ethnic group in public health and disaster preparedness. (Photo by CCOUC/CHINA DAILY)
Team from Hong Kong spreading awareness in remote rural areas
In a remote village in Southwest China that had been hit by an earthquake six months earlier, Emily Chan Ying-yang saw signs of trouble brewing.
People were profoundly depressed. Their days were spent without electricity or fresh water, while chickens roamed freely through their ramshackle homes.
Chan's efforts in leading a team of volunteers in Ma'anqiao village laid the foundation for what has become an ongoing effort to help prepare people in remote villages for when disaster strikes.
The public health scholar from Hong Kong made her first visit to Ma'anqiao, 120 kilometers from Panzhihua, Sichuan province, in March 2009.
"Unhealthy conditions, with humans and livestock living together, and animal or human waste scattered throughout living areas, heightened health risks in a place that had earlier been struck by disaster," Chan said.
Now assistant dean and professor on the Chinese University of Hong Kong faculty of medicine, she believes that damage caused in impoverished, disaster-stricken areas can be greatly mitigated through public education.
There is government help, but such assistance mostly comes after disaster strikes. Chan's goal is to carry out risk assessment and preparedness training.
Since she first visited Ma'anqiao, she has led more than 700 volunteer students from Hong Kong universities into risk-prone areas. Their journeys have taken them to outlying villages in nine provinces and to the suburbs of Chongqing.
Each team consisted of 10 to 20 students, with Chan or other instructors taking the lead.
They lived with villagers for a week or two, talked to them, and even played games with them, but the sole objective was to prepare them for disaster. In each case, the teams focused on local health risks, including water contamination.
Widespread poverty
Chan identifies a common thread running through the disaster-hit areas to which she leads her students. Poverty is inevitably widespread and people live far from medical centers that can provide assistance.
"The sites we select to visit must have been hit by disasters within the previous five years and be located at least five hours from the nearest medical center," she said.
The teams work to help vulnerable communities in rural and remote areas to cope with disaster before outside assistance arrives, she said.
Chan added that 70 percent of the villagers interviewed felt helpless when faced with disaster. Fewer than 5 percent had emergency kits that would help them to prepare for earthquakes, landslides or other disasters. Even simple first aid was the responsibility of village doctors. Locals had no idea how to treat even simple injuries.
"Their awareness of how to rescue themselves needed to be awakened and their proficiency in self-rescue had to be improved," Chan said.
She pointed out that first responses are crucial after a natural disaster. When an earthquake occurs, people need to be educated to stay far from slopes that might collapse, or rivers that could burst their banks. Downed power lines can deliver a fatal shock after a disaster, and people are warned not to try to swim through floodwaters unless there is no other choice.
These basics are communicated through simply illustrated posters, improvised dramas or games.
Chan and her teams also help design simple, inexpensive disaster kits, using materials easily acquired locally.
"We taught villagers to use old T-shirts as bandages to bind a wound," Chan said. Villagers are also shown how to prepare a simple rehydration solution made from salt, sugar and water. This is an effective means of treating dehydration caused by diarrhea. "While we were in Qinghai province, where sugar is not readily available, we taught villagers to use rice water instead," Chan added.