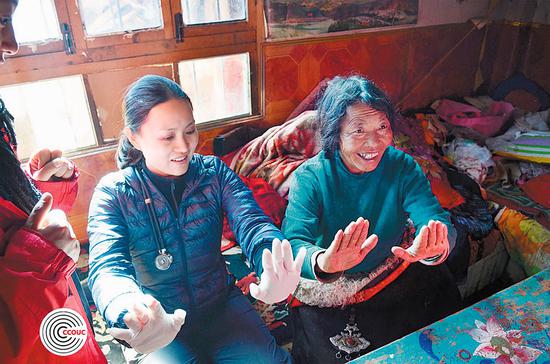 Chan shows a Tibetan woman in Qinghai province how to check her health. (Photo by CCOUC/CHINA DAILY)
An open ending
Typically, it takes three to four trips to complete a village study over one to three years, including a final visit to evaluate the impact of previous efforts. However, that does not mean all local health issues have been completely resolved.
In January last year, Chan led a team of 15 volunteers to revisit Ma'anqiao, nine years after her first trip.
The village was better off. There was electricity, fresh water and even internet access. Some villagers had become skilled at social media. Most, however, still do not know where to access information related to new, emerging public health concerns, Chan said.
One ongoing concern is for mental health. Traditional family-based rural lives have been broken. Most young and middle-aged villagers work far from home, where wages are higher. Elderly people and children are left behind, feeling lonely and insecure. There is also stress for migrants working in cities.
Chan believes every project is openended. As long as there are healthcare issues, she will keep returning.
She is not alone, having been joined by healthcare workers from the Chinese mainland and even overseas in recent years. These trips have led to a series of training manuals being published on health and disaster preparedness in rural areas.
Kevin Hung Kei-ching, assistant professor of emergency medicine at CUHK and a team leader and veteran of more than 30 field trips, said: "We introduce the basics. It is like sowing seeds and letting them germinate by themselves.
"You can't expect the standards of public health in these remote ethnic villages to improve significantly just on the basis of one or two field trips," said Hung, who is also an accident and emergency doctor for the Hospital Authority in Hong Kong.
"It takes the whole community to work together to improve public health levels," Hung added.
The work has its own rewards when all the efforts pay off. Last year, during Chan's latest visit to Ma'anqiao, team members cheered when locals displayed their disaster-preparedness kits, showing that they had been maintained for all these years.