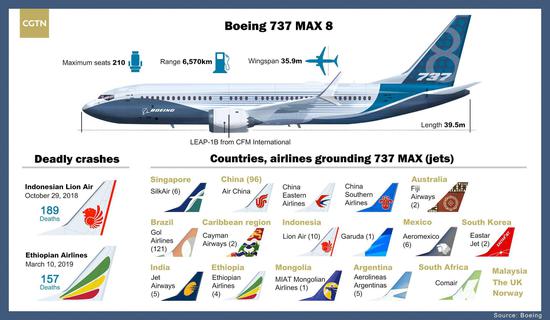 Infographics made by CGTN's Liu Shaozhen and Yao Nian
There is no timetable to resume commercial operations of Boeing 737-8 aircraft in China following the Ethiopian Airlines crash on Sunday, Ministry of Foreign Affairs spokesperson Lu Kang said Tuesday at a regular press conference.
The fatal Ethiopian Airlines flight crash killed 157 people on board, including eight Chinese. It is the second deadly crash of Boeing's latest model in less than five months. The Civil Aviation Administration of China (CAAC) suspended operations of this aircraft on Monday.
"The CAAC's announcement has clearly indicated that they will contact the U.S. Federal Aviation Administration (FAA) and the Boeing Company to confirm effective measures for flight safety, and then notify Chinese airlines to resume Boeing 737-8 aircraft's commercial operations," Lu said.
The civilian aviation authority gave the order "in line with the management principle of zero tolerance for security risks." China has 96 737-8 jets in service, and carriers such as Air China, China Eastern Airlines and China Southern Airlines will be affected by the suspension.
It is responsible for all passengers to ensure that there are no safety risks before resuming the Boeing aircraft operations, Lu said.
The countries, airlines grounding Boeing 737 MAX
There are about 350 of the 737 MAX 8 (also known as 737-8) planes currently in service across the world. A growing number of countries and airlines grounded the planes, while others continued the operation, pending an investigation into the crash.
Besides China, airlines from 15 other countries and regions have grounded the Boeing 737 MAX 8 planes so far. Here is a list of the countries and airlines grounding the aircraft.
Australia announced Tuesday a temporary ban on Boeing 737 MAX flights, and the ban will affect two foreign airlines – SilkAir and Fiji Airways. Fiji Airways has two 737 MAX 8 jets in its fleet and hoped to continue flying them to Pacific destinations.
Singapore's aviation regulator said Tuesday that it is temporarily suspending the operation of the Boeing 737 MAX variants into and out of the country. The suspension will take effect from 2 p.m. on Tuesday. The country's SilkAir Airlines with six MAX 8 jets will be affected by the suspension.
Indonesia said it will temporarily ground MAX 8 jets to inspect their airworthiness so as to ensure flight safety. Indonesian carriers Lion Air with 10 MAX 8 jets and Garuda with one jet will be affected by the ban.
Malaysian authorities also suspended its 737 Max 8 flights.
The UK Civil Aviation Authority announced "a precautionary measure" to "stop any commercial passenger flights (of Boeing 737 MAX aircraft) from any operator arriving, departing or overflying UK airspace."
Norwegian Air is to ground its Boeing 737 MAX 8 fleet as well after the recommendation from the European aviation authorities.
India's aviation authority ordered a safety assessment of the MAX 8 aircraft. Jet Airways in the country grounded its five MAX 8 jets starting Monday while "in contact with the manufacturer." It is unclear if 13 MAX 8 jets of the country's airline SpiceJet are grounded.
The Mongolian civil aviation watchdog said on Facebook that it ordered the state carrier MIAT Mongolian Airlines to suspend flights of the sole MAX 8.
Brazil's Gol Airlines suspended its use of 121 Boeing 737 MAX 8 jets. The airline has made nearly 3,000 flights with the jets with "total security and efficiency" and hopes to return them to use as soon as possible.
The Caribbean carrier Cayman Airways stopped using its two 737 MAX 8 jets from Monday. Cayman received its first MAX 8 in November and the second earlier this month. Its CEO Fabian Whorms said the airline is committed to "putting the safety of our passengers and crew first."
Ethiopian Airlines will ground its remaining four MAX 8 jets as an "extra safety precaution" while it continues to investigate the Sunday accident. It is awaiting the delivery of 25 extra MAX 8 jets.
Mexican airline Aeromexico suspended flights of its six MAX 8 jets to ensure "the safety of its operations and the peace of mind of its customers" The airline said other planes will take over the flights of the MAX 8.
South Korean airline Eastar Jet announced the suspension of its two MAX 8 planes' operations. The carrier said the MAX 8 will be replaced by Boeing 737-800 on routes to Japan and Thailand starting Wednesday.
Argentina's Aerolineas Argentinas announced late Monday the order to suspend its five MAX 8 jets pending the result of investigations into the Ethiopian Airlines crash.
South African airline Comair also said it "decided to remove its 737 MAX from its flight schedule."
Response from the U.S. and Boeing
However, the U.S. told airlines it was safe to fly Boeing 737 MAX 8 jets late on Monday. The U.S. FAA issued a "continued airworthiness notification" to assure safety to operators of the jets. Boeing also said it is planning to make a safety upgrade to software in the coming weeks.
U.S. carrier Southwest Airlines said, "We remain confident in the safety and airworthiness of our fleet of more than 750 Boeing aircraft." American Airlines also planned to continue operating its 24 MAX 8 planes.
Boeing's 737 MAX 8 aircraft suffered the first crash of the Indonesian Lion Air on October 29, 2018, killing 189 passengers and crew. The CAAC said there are similarities between the two deadly crashes of the Boeing's same model.