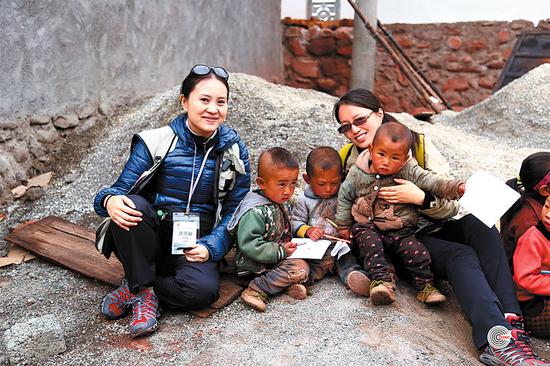 Emily Chan Yingyang (left) from the Chinese University of Hong Kong, and Du Wenwen of the Chinese Center for Disease Control and Prevention, pose with children in Hongyan village, Xide county, Sichuan province. (Photo by CCOUC/CHINA DAILY)
Targeted efforts
The health promotion program initiated by Chan selected villages where ethnic groups live for field trips. Most were located in remote underdeveloped areas and there was limited information in their native languages.
"There are not many official public health documents specifically formulated for ethnic groups," Chan said.
Over the past decade, the program has helped 12 ethnic groups. They include: the Dai, Dong, Jingpo, Lisu, Miao, Yi and Zhuang in the southwest of the country; Mongolian, Korean and Manchu in the northeast; and Hui and Tibetan in the west.
"The living habits and hygiene conditions differ among ethnic groups, so do health risks," Chan said.
"Among the Yi and Dai groups in the southwest, farm animals are free to enter households, leading to health problems associated with water contamination, such as diarrhea. In the northeast, many ethnic Manchu villagers experience respiratory diseases due to indoor air pollution from cooking fumes."
Chan believes that identifying specific health needs and developing targeted measures to address them are the most effective ways of promoting public awareness of how pre-existing public health risks are exacerbated when disaster strikes remote ethnic villages.
Hong Kong students working on the project arrived with questionnaires for villagers and local doctors, to help assess local needs. The most important questions, beyond living conditions, related to community awareness of infectious and noncommunicable diseases, and which of these are most prevalent in the local area.
Once the findings are evaluated, the team returns for a second visit to hold workshops aimed at eliminating the conditions that contribute to poor health. These range from personal hygiene, care for the environment, waste management, animal care, the handling of poultry, occupational safety and indoor air quality. Special attention is paid to conditions contributing to hypertension and diabetes.
In villages where no Mandarin is spoken, the teams use posters and translators to communicate the dangers of pesticides and their handling, especially the need to keep toxic substances out of children's reach.
In some cases, dramas are performed to remind local audiences to avoid health risks associated with livestock contamination of water sources, and to highlight correct preventive measures.
"All these healthy practices target the local natural environment and the health risks or needs," Chan said. The program, based on what is familiar to villagers, makes them more engaged, and they understand more easily.
In Ma'anqiao, which lies on the Jinsha River, an earthquake and flood-prone area, villagers were taught to assemble disaster preparedness kits. The items they contain are easily made or obtained locally, such as soap, towels, water bottles, flashlights, even whistles that can save victims from yelling for help as they wait to be rescued.