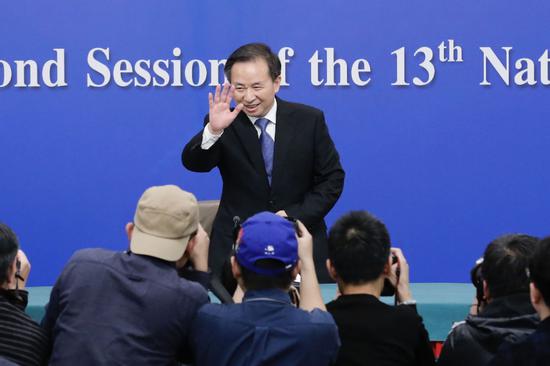 Li Ganjie greets reporters. (Photo by Kuang Linhua/China Daily)
Special: NPC, CPPCC Sessions 2019
The head of China's top environmental watchdog stressed that the environment should not be "sacrificed" for economic growth in the country.
Li Ganjie, minister of ecology and environment, made the comment in a news conference on the sidelines of the ongoing two sessions on Monday.
The relationship between environmental protection and economic development is often discussed in China.
While some people say one-size-fits-all approaches in environmental law enforcement have damaged economic development, others say local governments have relaxed their efforts in environmental protection as the country experiences an economic downturn, Li said.
Those things have happened in the country but only in a few areas, and those cases do not reflect the general situation in China, the minister said.
"We resolutely oppose those tendencies. Once we find such cases, we will resolutely stop them and hold officials fully accountable," Li said.
He said the sacrifice of the environment for economic development goes against the central authorities' directives.
Li said President Xi Jinping has warned against the tendency of sacrificing the environment for economic growth. Xi made the point during a panel discussion with his fellow deputies to the National People's Congress from the Inner Mongolia autonomous region on March 5. Xi said no sacrifice of the environment is allowed when encountering "just a little difficulty in economic development".
The minister said it will be one of the key tasks for central environmental inspections to see whether local governments are making such sacrifices.
While the country has encountered some challenges in its environmental progress, there are also many opportunities for environmental protection work, he said.
The high-quality development the country is rolling out will assist in ecological improvement and resolve pollution at the source. Increased investment from the central government will also provide an impetus, he said, adding that the national budget for environmental protection will increase by almost 36 percent year-on-year to 60 billion yuan ($8.9 billion).
Li also said China still confronts great challenges in curbing air pollution despite the tremendous improvement it made last year.
The 338 major cities across the country had fairly good air quality during 79.3 percent of the days in 2018, up by 1.3 percentage points year-on-year, he said.
The Beijing-Tianjin-Hebei cluster saw its average density of PM2.5, hazardous tiny particles, drop by 11.8 percent year-on-year, he added.
He warned, however, that it will be increasingly difficult to further decrease PM2.5 concentrations. Meanwhile, progress in different regions and industries is uneven.
Law enforcement capabilities, facilities and technologies are not yet adequate, he said.