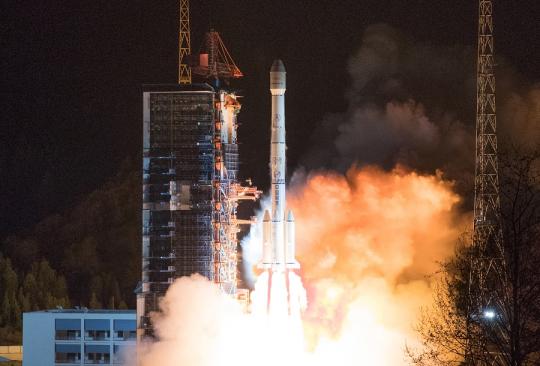 The "ChinaSat 6C" satellite is launched by a Long March-3B carrier rocket from the Xichang Satellite Launch Center in Southwest China's Sichuan province on March 10, 2019. (Photo/Xinhua)
On Sunday, China launched a Long March 3B carrier rocket into geostationary orbit, marking the 300th launch of the Long March family. Shi Hao, a scientist with the space mission engineering program at the China Aerospace Science and Technology Corporation, comments:
Three hundred is a very small number in astronautics, where distances are often measured in millions of kilometers. Yet, when it comes to rocket launches, 300 is a big number because of 96 percent of the launches have been successful, and China has constantly honed its skills.
As "emerging" aerospace powers that emerged after the end of the Cold War and the space race between the United States and the Soviet Union, the European Space Agency, mainly led by France, has the ability to launch 12 rockets a year, or once a month. Nevertheless, the total number of rocket launches by the ESA is still lower than 300. In other words, China is ahead of Europe in terms of astronautics.
It should be emphasized that China has made tremendous progress in spacecraft technology during the 300 rocket launches, which have carried over 400 satellites and 11 manned spacecraft into space. Since the launch of Dongfanghong 1 on April 24, 1970, China took 37 years to finish its first 100 rocket launches. Yet, the second 100 rocket launches took only seven and a half years.
The third 100 rocket launch took only four years and three months, which is really remarkable. Behind this achievement are China's progress in technologies such as remote sensing satellites, navigation satellites and communication satellites, as well as the huge market demand for them.
During the 300 rocket launches, China has achieved geostationary earth orbits, lunar transfer orbits as well as halo orbits and realized high reliability. Long March rockets are already associated with trustworthiness. Now fresh challenges await the Long March rocket family.