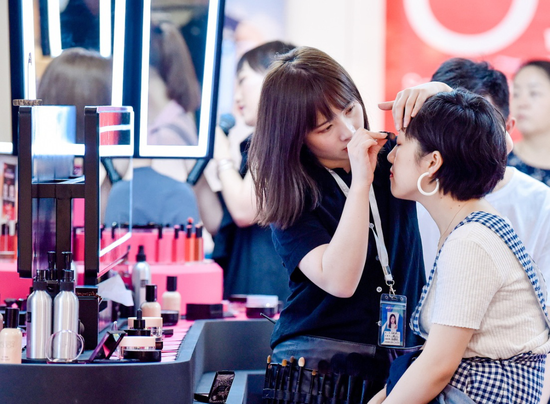 A consumer tries cosmetics at a shopping mall in Beijing. (Photo by Niu Jing/For China Daily)
Chinese women are buying more for themselves than they have in the past, according to a new report on Chinese women's consumption.
The report was released one day before this year's International Women's Day by Alibaba's e-commerce platform, Tmall.
More women are spending to please themselves instead of other people, the report said. Tmall's data showed that women's consumption of books, tourism experiences, wire-free bras, flat shoes, flowers and other "treat-yourself" products continues to grow significantly.
Women born in the 1980s placed a total of 48.06 million book orders on Tmall in the past year, while according to data from Fliggy, Alibaba's travel arm, the same group spent most on travel, China's Hong Kong, Japan, Thailand, China's Macao and Singapore their favorite destinations.
Women's consumption of healthcare products, wire-free bras and fish maw recorded year-on-year increases of 81.03, 61.95 and 124 percent, respectively.
Women's per-customer transaction on Tmall has been increasing for the last two years, with an increase of 8.85 percent in 2018. Women's spending power in quasi-first-tier cities is also catching up with that of women in Beijing, Shanghai and Guangzhou.
Hangzhou, Nanjing and Xiamen last year joined Shanghai and Beijing as the cities with the highest spend per transaction, while Guangzhou and Shenzhen dropped out of the top five.
Based on their findings Tmall released an independence index of women, which argues that women in first-tier and new first-tier cities are becoming more independent.
Among the cities with the highest independence indices, Shanghai, Beijing, Guangzhou, Shenzhen and Hangzhou comprise the top five.