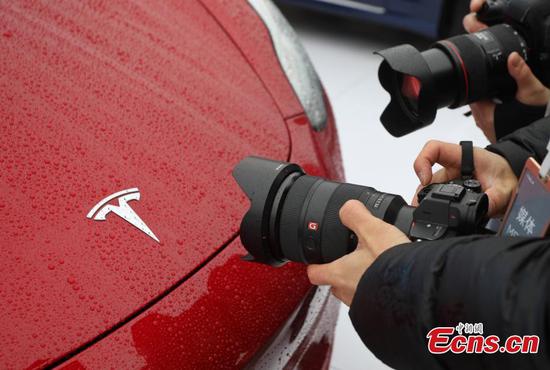 Visitors look at a Tesla Model 3 car in Shanghai, Jan. 7, 2019. (Photo/China News Service)
(ECNS) -- Tesla is set to close its physical stores in China as it turns to online sales and seeks partnership with popular mobile payment app Alipay, backed by e-commerce giant Alibaba, the International Finance News reported on Friday.
The newspaper, a spin-off of People's Daily, said the U.S. electric carmaker had cancelled commissions for frontline sales-people from the second quarter, and that the two stores in Shanghai had already started adjusting operations.
Closing physical stores could help lower the average Tesla car price by six percent, which would mean the Model 3 could be sold at $35,000 much earlier than scheduled.
Tesla is offering the online sales platform and accepting payments through Alipay. An insider told the newspaper that Tesla will cooperate with Alipay to launch online orders for the Model 3 cars.
However, neither Alipay nor Tesla would confirm the move when questioned, the newspaper said.
The report also included a screenshot of a WeChat message, thought to be complaints by Tesla salespeople.