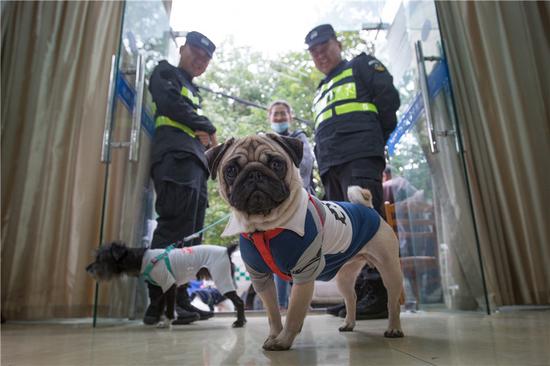 Dog lovers wait in line to obtain licenses for their pets at an administrative service center in Hangzhou, Zhejiang province. (NI YANQIANG/FOR CHINA DAILY)
Rising tensions between owners and other members of the public have resulted in many cities harshly enforcing related legislation.
When the clock ticks close to 7 pm, Jia Yilei, from Hangzhou, capital of Zhejiang province, puts a pink waterproof coat on her pet dog, a black Shiba Inu named Hawaii, fixes a leash on her collar and walks her out the door.
This may appear a usual routine for dog lovers, but what makes it different is that Jia is only allowed to walk Hawaii between 7 pm and 7 am. She used to bring the dog with her when she went to buy groceries, but that has not been possible since November, when a campaign to strictly enforce existing regulations started.
However, Hawaii is lucky. At least she is properly licensed, so she has the right to go outside, unlike a golden retriever named Alu.
Alu is not officially allowed out of doors because golden retrievers don't appear on the city's list of approved breeds, meaning it cannot be licensed. As a result, Fan Chen, Alu's owner, has to walk the dog secretly after 8 pm on a remote path in his neighborhood to avoid crowds.
The restrictions are being enforced in Hangzhou and several other cities as part of a canine clampdown resulting from rising tensions between dog owners and other members of the public following a number of incidents.
Incidents
A video posted on social media in November showed a dog owner manhandling a woman who was trying to shoo his unleashed dog away from her young child. In October, four people were bitten by a dog at a public park in Guilin, Guangxi Zhuang autonomous region.
In September, a pregnant woman was assaulted by a female dog owner. The woman's husband had kicked out at the owner's dog to stop it approaching his wife. Media reports claimed the attack put the mother-to-be at risk of giving birth prematurely.
In August, a woman in Xi'an, capital of Shaanxi province, died from rabies after being bitten by a stray, despite being given postexposure treatment for the disease.
Statistics from the public security bureau in Shenzhen, Guangdong province, show that from January to October last year police received 3,293 reports of disputes related to the behavior of dogs in public places, with 3,010 involving "dog attacks", according to the bureau's website.
Zhu Shuilin, chairman of the Zhejiang Small Animal Protection Association, said the increasing friction is the result of the rapid development of the pet industry and a lack of awareness of the responsibilities dog owners must assume, in addition to a shortage of legislation.
China's pet dog sector started in the early 1990s, when animals were introduced from overseas to replace aggressive Chinese rural breeds, which were kept for hunting and as guard dogs.
During the past decade, the trend has boomed, reaching an annual growth rate of nearly 40 percent and becoming an influential, independent sector, according to Zhu.
"China's pet industry is skyrocketing, but the government is not up to speed and lacks experience in managing the sector. In addition, many owners do not understand the obligations that come with keeping a dog. They think having a dog is like having a mobile phone and they can do whatever they want with it," he said.