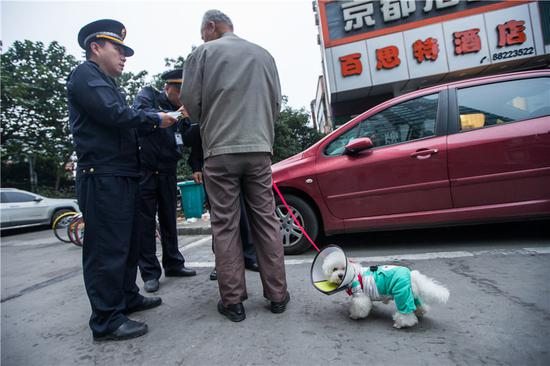 Urban management officers explain the regulations to a man walking his dog on a street in Hangzhou. (CHEN ZHONGQIU/FOR CHINA DAILY)
Backlash
Fan has trained Alu well. Golden retrievers naturally love getting close to people, especially children, but from an early age the 2-year-old was trained not to approach strangers, to stand quietly in elevators, and, if coming across a child during a walk, to sit down and allow the child to pass first.
Despite Alu's impeccable behavior, news of recent dog-related incidents and conflicts has prompted a backlash among Fan's neighbors.
"I have been asked more than once if we dog owners will always defend our pets no matter what happens. I feel quite speechless. All these 'dog problems' are in fact 'people problems' because a dog's behavior is determined by its owner," Fan said.
The friction has triggered a public grudge against dogs and, in turn, prompted authorities to impose harsh measures. Over the past few months, many cities across the country - including Xi'an; Chengdu in Sichuan province, Wuhan, Hubei province; Wenshan, Yunnan province; and Guangzhou, Guangdong province - have started clampdowns on unlicensed and stray dogs.
Hangzhou is just the latest city to join the trend. In addition to the time restrictions on walking dogs, only 34 breeds can be kept as pets within the urban area, including Chihuahuas, Pomeranians and poodles. Residents are not allowed to raise or exchange dogs that can grow taller than 45 centimeters or longer than 60 cm, and 34 "vicious" breeds have been banned, including Tibetan mastiffs, German shepherds and Chinese rural dogs.
He Jiaming, an officer with the Hangzhou urban management committee, said the main targets are unleashed dogs, strays, unvaccinated or unlicensed dogs, and owners who fail to clean up their pet's droppings.
Unlicensed dogs are impounded, and their owners face fines of up to 5,000 yuan ($740), while other violations carry fines ranging from 200 to 1,000 yuan and the dogs are also taken to a pound.
Broken Bridge, near West Lake, is one of Hangzhou's best-known tourist attractions.
In days gone by, the area's beautiful natural scenery and open spaces attracted large numbers of tourists and local dog owners. Now, though, not a single dog can be seen along the lakefront, and a sign reads "No vehicles or pets allowed."
Police officers patrol the lakeside and a checkpoint has been set up.