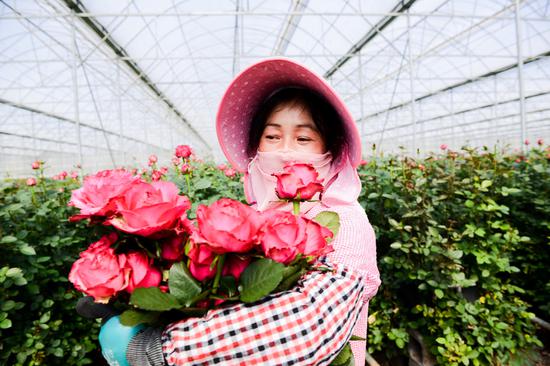 A gardener harvests flowers at a plantation in Kunming, capital of Yunnan province, for sale on Taobao. (Photo by Niu Jing/For China Daily)
Roses are red, violets are blue, and men may be gifted, too.
Gone are the days when Valentine's Day was all about pleasing the ladies: Gift-buying for men is on the rise.
According to the country's top e-commerce platform Alibaba, women accounted for 58 percent of all users who purchased V-day presents via its Tmall and Taobao marketplaces. Sought-after "for him" presents include skincare, male fragrances, branded pullovers and toy robots, the e-tailer said.
Lipsticks for men skyrocketed 6.4 times in the week leading up to the festival compared with same time last year. Men-only blemish balm, a combination of foundation and skincare, also surged 41 percent year-on-year. Over one-fifth of aesthetic medical products or services are dedicated to male users.
Meanwhile, women have expanded their gift list to include more than just their significant other. They are also buying for parents, friends, and most important of all, themselves.
It came as no surprise that orders for flowers - the Valentine's Day classic - soared 69 percent from a year ago, with roses leading the pack with a 2.2-fold jump.
But 60 percent of the orders were placed by women, who are mostly pampering themselves with the bouquets, according to Alibaba's survey. This contrasted with just two years ago when more than 70 percent of flower purchases on the platforms came from men.
Besides, 40 percent of female consumers said they buy flowers as a token of love to their mothers, sending demand for high-end varieties like tulips up by 1.3 times from a year ago.
"It seems that the expectations around Valentine's Day have changed, putting men and women on more of a level playing field," said Cao Lei, director of China E-Commerce Research Center. "Women have become a lot more self-expressive, thanks to their significant rise in social status and income level."
This year, festive love birds are particularly mesmerized by cherries, whose sales advanced 65 percent one week ahead of the Valentine's Day year-on-year, according to Alibaba statistics.
The fruit went viral thanks to social media promotions and became an instant hit among Chinese who aspire for quality treats, presenting a unique opportunity for brands to tap into the younger and relatively affluent population, said Neil Wang, president of consultancy Frost & Sullivan China.
Higher prices don't seem to have deterred love-struck buyers, with sales of bracelets, earrings and hair decorations growing by 2.7, 3.5 and 6.5 times, respectively. But an increasing number of those under 23 are purchasing jewelry for themselves, Alibaba said without disclosing details.