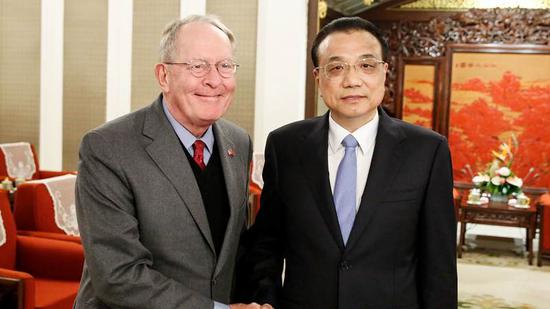 Chinese Premier Li Keqiang shakes hands with Tennessee Senator Lamar Alexander in Beijing, China, November 1, 2018. /Photo via gov.cn
Chinese Premier Li Keqiang on Thursday told a delegation of visiting US politicians that a healthy and steady China-US relationship serves the fundamental interests of people from both countries.
In talks with a group of Republican senators and a congresswoman led by Tennessee Senator Lamar Alexander in Beijing, Li emphasized that both countries should abide by the previous important consensuses reached by leaders of the two countries and try to put the bilateral ties back on a normal track.
He also pointed out that it is conducive to China and the US, as well as to the world to control and settle disagreement through dialogue and negotiation.
The American delegates commented that the US and China are competitors but not adversaries and common interests matter far more than differences.
The American delegates also suggested that the two sides solve problems in trade through fair and equal negotiation, and achieve common prosperity through cooperation.