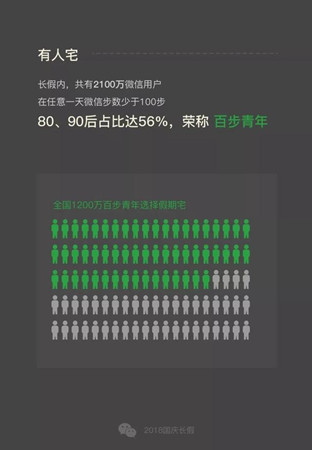 (Screenshot photo)
Special: China's National Day
While most Chinese people took advantage of the National Day holiday to travel around, some chose to be confined to their homes during entire period.
Data from WeChat shows that 21 million Chinese people had daily movement of less than 100 steps during the past holiday. Among them, 56 percent are people born in the 1980s and 1990s.
Meanwhile, South China's Guangdong Province, East China's Jiangsu, Zhejiang and Shandong provinces, and Northeast China's Liaoning Province are the top five provinces where people stayed indoors.
Accordingly, since these people stayed at home all day long, they ordered the most takeouts during the holiday.
Reading was one of the main preferences of these people to kill time. WeRead users spent a total of 19.87 million hours on reading. The longest time a user spent on reading was 84 hours, with an average 12 hours each day.