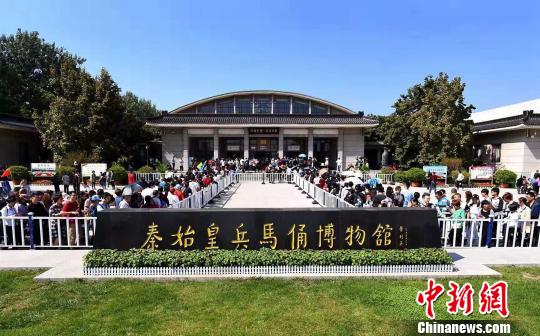 Tourists visit Museum of Qin Shihuang Terracotta Warriors and Horses during the National Day holiday of 2018. (Photo/China News Service)
(ECNS) - Consumer activities during the National Day holiday upgraded among Chinese tourists, with more spending on culture-related activities, according to the Beijing-based Chinese Tourism Academy.
Among the changes, more Chinese visited cinemas, theaters, museums and libraries during the holiday. Over 40 percent of tourists visited museums, art galleries, libraries and science and technology halls. Cultural scenic spots such as the Old Summer Palace, Palace Museum and Terracotta Warriors Museum attracted a flood of visitors, according to data from the Ministry of Culture and Tourism.
Besides, over 90 percent of tourists took part in cultural activities during the holidays, among which 40 percent took part in such activities twice.
The overall consumer market continued to expand. Data from the Ministry of Commerce showed retail and restaurant sales totaled 1.4 trillion yuan in the seven-day period, with average daily spending in the sectors up 9.5 percent year-on-year.
Sales of organic foods, fashion apparel, gold and silver jewelry, ultra high-definition televisions, smart phones, smart home products and automobiles also boomed.
Shared homestays, online shopping, online food-ordering, customized tour products, and mobile payments were hot trends during the holiday.
Tourist attractions received 726 million visitors during the seven-day holiday, an increase of 9.43 percent year-on-year, while tourism revenue increased 9.04 percent to 599.08 billion yuan ($86.8 billion).