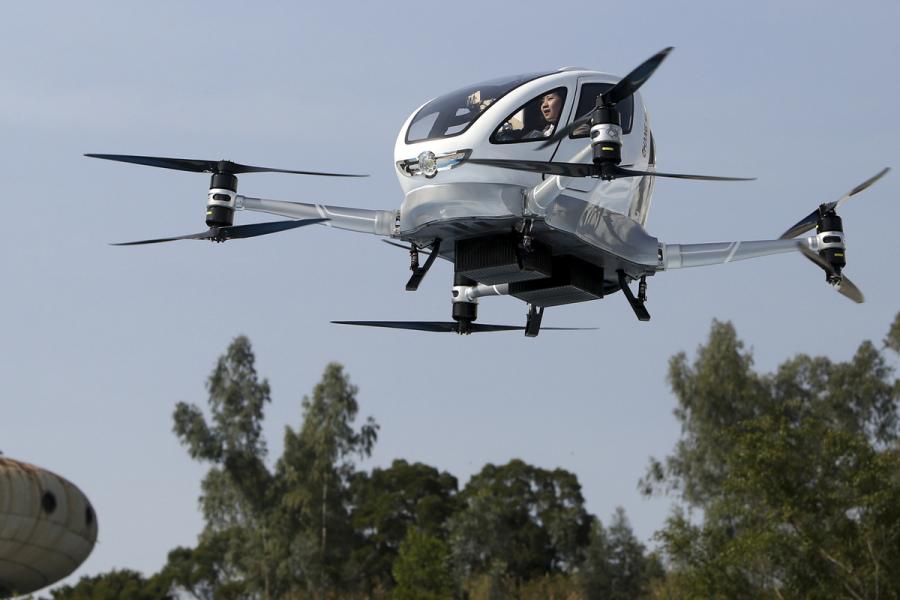 Ehang 184, a passenger drone, takes a test flight in Guangzhou in February. (FENG ZHOUFENG/FOR CHINA DAILY)
The stuff of science fiction is close to becoming reality
Back in February, drone manufacturer Ehang released a video of the world's first passenger drone, the Ehang 184.
The video showed the drone being put through its paces with and without a passenger. Many analysts watched the demonstration in amazement. The future was suddenly upon us.
The electric drone can carry one passenger, weighing up to 100 kilograms, and travels at speeds of up to 100 kilometers per hour.
Headquartered in Guangzhou, the capital of South China's Guangdong Province, the company describes the Ehang 184 as the "world's first all-electric, consumer-facing autonomous passenger drone". In other words, it is a flying car.
Two and a half years ago, Ehang was virtually unknown in the wider tech world. The company strutted its stuff at the Consumer Electronics Show in Las Vegas in January 2016 and made the bold claim that it would build a completely autonomous, passenger-carrying quadcopter-a multirotor helicopter that is lifted by four rotors-that would "revolutionize" mobility.
Andrew J. Hawkins, a writer with The Verge, a technology news and media network in the United States, said, "Many of us in the tech community chortled under our breath at the time, wondering if such a thing was even possible, let alone advisable."
Now, no one is laughing, as quadcopters, flying cars or taxis-call them what you will-are a reality. And as Hawkins wrote earlier this year, "This thing is no joke."
Ehang is not the only Chinese company involved in the research and development of flying cars.
Late last year, Zhejiang Geely Holding Group, which owns Volvo and Lotus, acquired Terrafugia, a company in Boston, US, which plans to start selling flying cars by next year.
Bloomberg reported: "It's the most prominent Chinese investment yet in an industry that's attracting the talent and capital of some of the world's most prominent entrepreneurs and investors. And it marks an important advance for a technology that could reshape the 21st-century city."
However, China is not alone in developing this technology. Dozens of companies worldwide are spending billions on research to get commercially viable flying cars off the ground.
Some of the leading contenders include Airbus and Daimler in Europe, Boeing, Bell Helicopter, Uber and Google in the US, and Aston Martin in Britain.
Increasing traffic congestion across megacities and large urban centers, coupled with the resulting economic losses, continue to drive the need for more efficient modes of urban transportation, according to business consultancy Frost & Sullivan.
Joe Praveen Vijayakumar, the company's industry analyst, said flying cars are being explored as an alternative form of future mobility, making use of underused domestic airspace.
He said flying cars are set to disrupt the personal mobility space of the future, with at least 10 early entrants expected to launch various versions by 2022.
"This space has been witnessing bustling activity, with new players from various industries entering the race to build flying cars," he said.
"We have also seen a surge in funding, as several companies have raised funds or been acquired by established players from the automotive industry."
With the newly developed Ehang 184, it seems that all passengers need to do is climb into the small cabin, fasten their seat belts, and the automated flight system does the rest.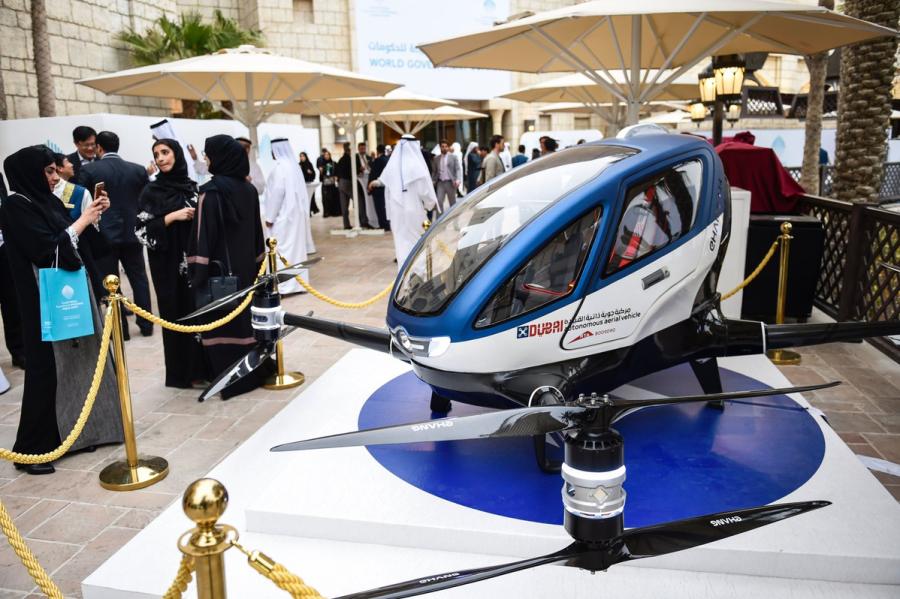 The Ehang 184 passenger drone is displayed in Dubai. The electrically powered drone, developed by a company in Guangzhou, can carry a passenger weighing up to 100 kilograms and can travel at speeds of up to 100 kilometers per hour. (Photo/CHINA DAILY)
Ehang's Chief Executive Officer Hu Huazhi said in a statement in February: "None of the traditional flying vehicles can achieve the goal of fully autonomous flying, so they are still far away from common people. But our successful flight means the scenes that we used to see only in sci-fi movies are now very close to common people."
The company said the drone has been tested more than 1,000 times and is designed to withstand gales with wind speeds of up to 50 km/h. But each Ehang 184 costs a reported $200,000 to $300,000.
Last year, Dubai, in the United Arab Emirates, announced a plan to cooperate with Ehang to develop self-flying taxis to transport people across the city.
Ehang cofounder Derrick Xiong said at the time, "The drone can help people to avoid traffic on the ground, but in other applications we can always think about emergency rescue, or we can transport patients to the hospital, or we can do tourism-you know, fly from one island to another."
Analysts believe that flying cars and air taxis that ferry people to and from work, airports and between cities will be commonplace within the next two decades.
In February, Airbus released a video of the first successful test flight of its eVTOL (electric vertical takeoff and landing) autonomous drone.
Although it only hovered in the air for 53 seconds, the fact that its eight rotors were powered entirely by electricity was a landmark for the manufacturer of gas-guzzling commercial aircraft.
However, Ehang is considerably more advanced than most of its competitors, including Airbus. It is already test-flying drones with passengers who simply mark their destination on a map while the drone creates and executes a flight plan.
At the Farnborough International Airshow in Britain in July, Boeing announced it was setting up a new division to tap into what it described as "the growing market of autonomous flight".
To be called Boeing Next, it will work in partnership with other companies as it looks to "build unmanned vehicles, resolve air traffic control and help model infrastructure on the ground", the company said in a statement.
The development of flying vehicles is going to arrive in the next few years, Boeing said, adding that transportation in the future will need to be "multi-modal".
The aerospace giant also announced that it has embarked on a new partnership with the US artificial intelligence company Spark-Cognition.
Boeing said the collaboration will use blockchain technology and AI to develop an air traffic management system that can track an unmanned vehicle as it flies. The system would also allocate traffic routes and corridors.
Amir Husain, founder and CEO of SparkCognition, said the urban aerial transportation market has been estimated to be worth $3 trillion, "which represents the largest new market in our lifetime".
"The world's No 1 aviation leader partnering with the world's most innovative industrial AI company means that unparalleled experience in safety, innovation, scale and reliability will be brought to bear to address this monumental opportunity."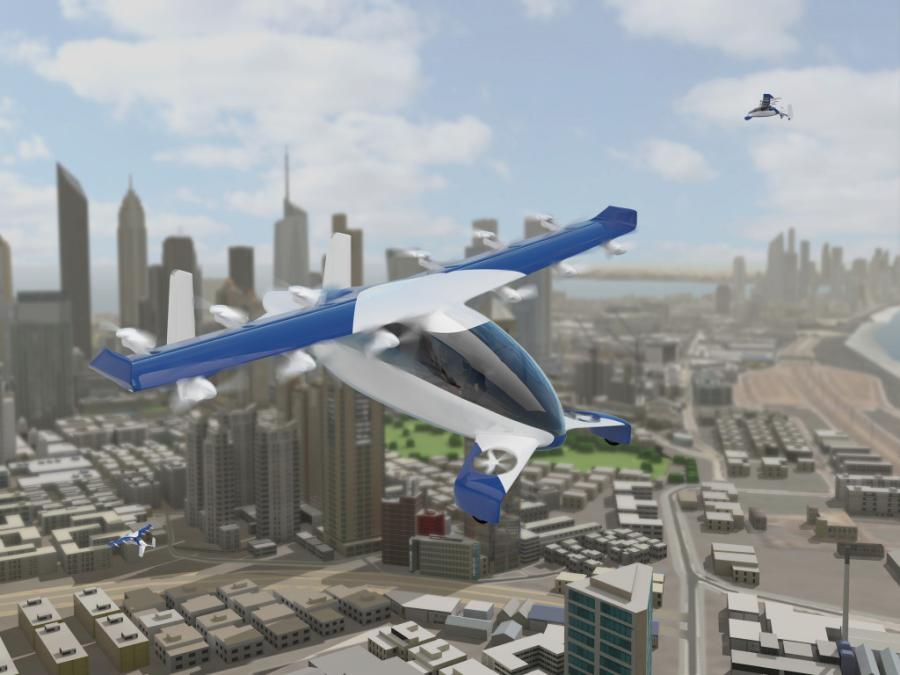 Boeing plans to develop a system to track an unmanned vehicle in flight. (Photo/CHINA DAILY)
Steve Nordlund, vice-president of Boeing Next, said, "Boeing is leading the responsible introduction of a new mobility ecosystem, instead of just focusing on vehicles.
"Through our technology development and investments, as well as our work with industry leaders, new and existing partners, and regulators, we are uniting the key enablers and stakeholders to make the future mobility ecosystem a reality," he said.
"Cargo and passenger air vehicle prototypes are being built and tested right now. The introduction of these new technologies won't all happen at once; proven technologies will be phased in only after they have gone through a robust development process that includes rigorous testing."
Most important, in Nordlund's view, there must be a new transportation ecosystem that allows autonomous and piloted air vehicles to coexist safely.
He said a number of operating and business models are being considered-everything from shared air mobility (air taxis) to personal ownership (cars).
"In all of these models, the technology will make urban transport clean, quiet, accessible and safe," he said.
Autonomy will be integral to the future of air mobility, and travel needs to be safe, reliable and accessible.
Boeing said it is building technology that will enable both fully autonomous vehicle operations as well as intelligent systems that will assist pilots during routine operations.
"We are designing, building and flight-testing electric vertical takeoff and landing vehicles that will provide on-demand cargo transport and urban air travel in the future mobility ecosystem," Nordlund said.
In May, at the World Business Forum in Sydney, one of the world's leading futurists, Shara Evans, said flying taxis and flying cars "are no longer science fiction but a reality".
She told China Daily flying cars will be in the air within the next decade.
Uber's CEO Dara Khosrowshahi this year recommitted to the company's goal of offering flying taxis as a transportation option within the next five to 10 years.
UberAir aims to fly vehicles at low altitudes as part of a network of small eVTOL planes that fly short distances. This is something the company has talked about since 2016, targeting demonstration flights in Los Angeles by 2020.
In April last year, Kitty Hawk, the flying car company backed by Google cofounder Larry Page, released the first footage of a prototype in action.
The vehicle will sit well with environmental activists, as it is fully electric. The company said the vehicle will be ideal for shorter, city-to-city flights, with a range of 100 km and a maximum speed of about 150 km/h. To operate it, a runway will not be needed, as it can take off and land vertically. Of course, users will not actually be operating it, as the vehicle is self-piloting.
The company has named it Cora. It also said it is meant to be much more than just a flying car-it is a flying taxi.
In a media release, Kitty Hawk said it is working with the New Zealand government to commercialize the flying taxi. The two sides aim to see a commercial network of air taxis soaring above New Zealand cities in as little as three years.
Kitty Hawk settled on New Zealand because of its uncongested airspace and rigorous regulatory environment. But more important, the government embraced the idea.
Cora has been granted an experimental airworthiness certificate by the Civil Aviation Authority of New Zealand.
Trialing the flying taxi service will reportedly take six years, with operations based around the city of Christchurch.
Christchurch Mayor Lianne Dalziel said, "This aircraft represents the evolution of the transport ecosystem to one that responds to a global challenge around traffic and congestion, and is kinder to the planet."