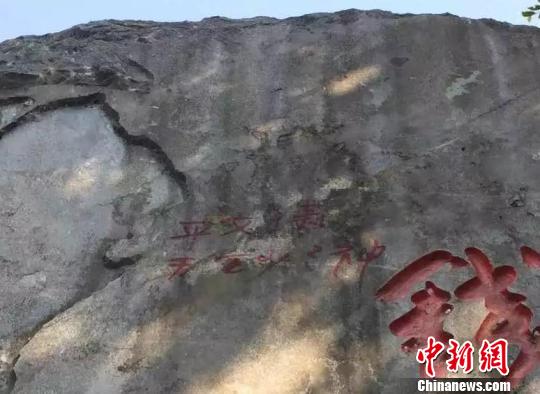 Graffit is found at a tourist site of West Lake in Hangzhou City, Zhejiang Province. (Photo provided to China News Service)
(ECNS) - A tourist who scrawled his name three times on tourist attractions at West Lake in Hangzhou City is under criminal detention, according to the city's police.
During the National Day holiday from October 1 to 7, staff at the West Lake scenic area, Zhejiang Province, found a stone tablet defaced with a few squiggly Chinese letters reading "Ping Wentao." Later, the same name was found on another stone tablet in Lingyin Temple, also part of the West Lake scenic area.
On the morning of October 7, a man was caught in the act of scribbling characters on a stone tablet at Qianwang Temple, another attraction in Hangzhou.
Police investigations revealed that the suspect was the same person who left graffiti at all three sites.
Ping, 36, from Handan City in Hebei Province, said he had been unemployed since September and often wandered around West Lake. He created the graffiti because he felt bored and had nothing to do, he said.
Shen Junye, a police officer handling the case, said Ping had been placed under criminal detention for three days and may face a longer term or other compulsory measures depending on an assessment of the damage and his motivations.