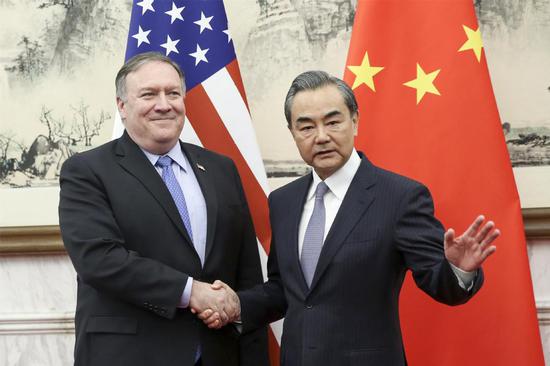 Chinese State Councilor and Foreign Minister Wang Yi meets with US Secretary of State Mike Pompeo in Beijing on Oct 8, 2018. (Photo by Feng Yongbin/China Daily)
The United States should work with China to pursue the path of win-win cooperation instead of taking a wrong approach of conflict and confrontation, State Councilor and Foreign Minister Wang Yi told U.S. Secretary of State Mike Pompeo on Monday.
While escalating the trade frictions between the two countries, the U.S. side has taken a slew of actions undermining the rights and interests of China on such issues as Taiwan question and made unwarranted accusations against China's domestic and foreign policies, Wang said in a meeting with Pompeo in Beijing.
The U.S. moves have directly impacted on the mutual trust and cast shadows upon bilateral ties, Wang added.
"We demand the U.S. stop the unwarranted accusations and wrongdoings against China immediately," Wang said.
As the U.S. side hopes to communicate with China on some hotspot issues like the Korean Peninsula issue during Pompeo's visit, Wang said this demonstrates the two countries, also the two permanent members of the United Nations Security Council, should strengthen communications.
However, Wang stressed the cooperation should be supported by healthy and steady bilateral ties.
Prior to his Beijing visit on Monday, Pompeo travelled to Tokyo, Pyongyang and Seoul.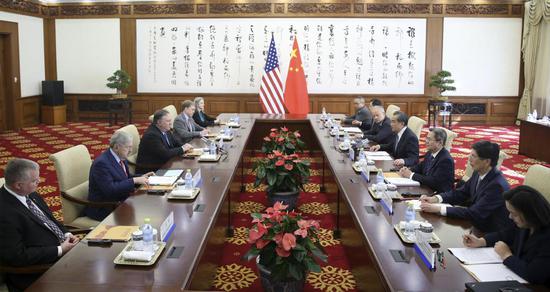 Chinese State Councilor and Foreign Minister Wang Yi holds talks with U.S. Secretary of State Mike Pompeo in Beijing on Oct 8, 2018. (Photo by Feng Yongbin/China Daily)