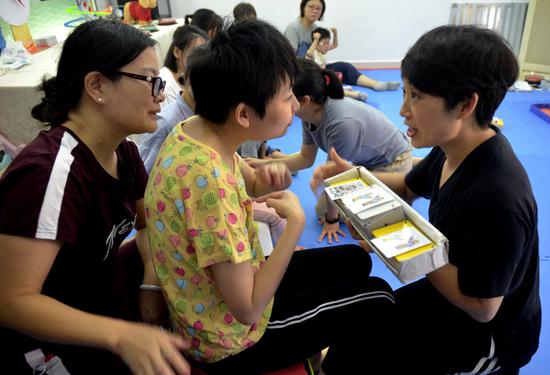 Sze Ka-yan, who has the intellectual capacity of a 2-year-old, receives regular cognitive therapy. China Daily
Tsui took her daughter to the doctor. Tests led her nowhere and she was referred to a specialist. After another year, Sze's condition was diagnosed. By the time she started primary school, Sze had already lost basic abilities.
"She couldn't feed herself," Tsui said. "Her wasted mastication muscle didn't allow her to chew food properly. School caregivers had to cut food into small pieces and put them in her mouth."
Chan said it took 10 to 20 years to understand the mechanism of a disease, and then five to 10 years to develop and test a drug.
In March, a 23-year-old spinal muscular atrophy (SMA) patient managed to persuade the Hong Kong government to import an effective drug, Nusinersen, after writing a letter to city Chief Executive Carrie Lam Cheng Yuet-ngor.
SMA is a rare neuromuscular disorder resulting in progressive muscle wasting, loss of motor skills and early death. Nusinersen is made in the US and had been approved by the FDA, but it had not been registered in the city. Now SMA patients in Hong Kong can access the drug free of charge.
Chan said Hong Kong is short of expertise in dealing with rare diseases, with only a few clinical geneticists specializing in rare conditions among children.
But universities in Hong Kong are building up the pool of clinical geneticists. The Chinese University of Hong Kong has collaborated with Baylor College of Medicine from the US on a geneticist training program since 2012.
Edwin Chan, associate vice-president at CUHK's School of Life Sciences, who has studied neurological disorders and developed therapeutic interventions for 20 years, said local medical schools and hospitals should introduce geneticist training programs from overseas to equip more physicians with knowledge of rare diseases.