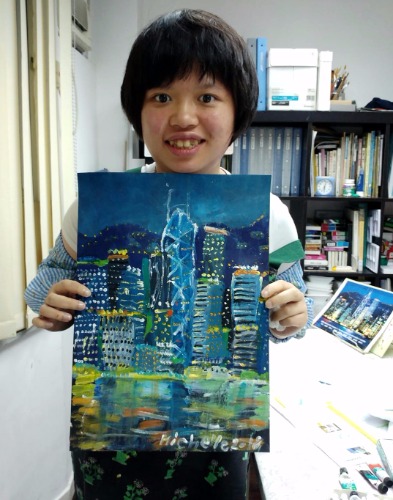 TSC patient Lam Chuk-yiu holds a picture she painted. (Photo/China Daily)
Brain surgery in the US that cost the family $80,000 successfully removed the tumors on Lam's left cerebral hemisphere. Her seizures became less violent and less frequent, but the surgery was unable to remove all her tumors.
Lai, from the Hong Kong Alliance for Rare Diseases, has Pompe disease, a malady caused by mutations in the gene responsible for producing the enzyme that breaks complex sugars into simple glucose. Excessive sugars accumulate in muscles, organs and tissues, making it difficult for patients to walk or even breathe. Pompe afflicts only one person in 40,000 worldwide.
Lai and his elder brother are among about 20 Hong Kong patients. They began seeking medication when they were first diagnosed in their teens, but their efforts inevitably met with a soul-destroying shake of the head from medical experts.
In 2010, his brother had only 10 percent of a healthy person's lung function and was certified as critically ill and put on life-support. Then Lai learned online about a drug called Myozyme, that had been prescribed in the US and Taiwan since 2006. Lai printed out the prescription and wrote a plea to his doctor asking that Myozyme be considered. His doctor learned the medication was already available in Hong Kong, but only for infants.
Lai lobbied the Hospital Authority's Expert Panel on Rare Metabolic Diseases, pleading that adults with the disease be given a Myozyme subsidy. In 2011, Lai's brother was given subsidy approval and survived - nearly five years after Myozyme was approved in the US.
"I am fairly lucky, compared with most rare-disease patients in the city who live without hope," Lai said.
Urgent need
He said he knows of four types of drugs widely used elsewhere to treat Fabry disease, a rare, lethal malady arising from a deficiency of an enzyme that digests a type of fat.
Accumulated fatty molecules affect the function of the skin, eyes, gastrointestinal system, kidneys, heart, brain and nervous system. However, no drug is approved for use in Hong Kong.
Chan said that while patient safety must take priority, the authority should also weigh the urgency of need when considering treatment for rare diseases.
Sze, who has lived with Rett syndrome for 24 years, now has the intellectual capacity of a 2-year-old and has almost lost her ability to speak.
"I suspected something was not right when she was 3," Tsui said. She said her daughter became quiet, called her "sister" or "brother", fiddled with her fingers involuntarily and barely spoke, muttering only single words at times.