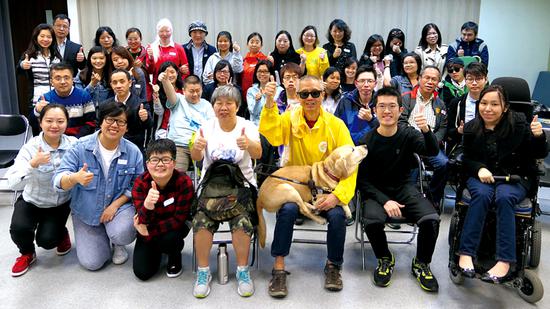 Pompe patient Terry Lai (first row, second right) works in the Hong Kong Alliance of Rare Diseases' campaigns to seek welfare rights for rare-disease patients in the city. (Photo/China Daily)
Early treatment
Danny Chan, assistant dean of the Li Ka Shing Faculty of Medicine at the University of Hong Kong, said patients with rare diseases often deteriorate quickly and early treatment is essential.
One example is tuberous sclerosis complex (TSC), a genetic disorder causing tumors in soft organs that result in seizures, intellectual disability, and lung and kidney diseases.
Rebecca Yuen's daughter, Lam Chuk-yiu, was diagnosed with TSC 20 years ago and is among about 200 people with the disease in Hong Kong.
Lam began having seizures when she was 5 months old. They became more frequent, going from once a day to 160 times a month.
"Her whole body would jerk and shake violently," Yuen said. "Suddenly she would fall into a trance. I could do nothing but hold her up and massage her. It was heart-rending to see my little girl crying and in such pain."
In 2010, Yuen learned about the use of mTOR inhibitors, drugs that inhibit tumor development, in the US and Europe to treat TSC.
"It is said that if patients take the medicine from an early age, they will likely be nearly normal when they reach adulthood," she said.
Yuen and the families of other TSC patients put pressure on lawmakers to approve the drug, but encountered opposition.
"The medicine is expensive, HK$20,000 per month, per patient," Yuen said. "There are only a handful of TSC patients in the city, so maybe it's not cost-effective to import it. But life can't be measured in money."
She founded the TSC Association of Hong Kong in 2015 and is its president. The Legislative Council took notice of their cause when a single mother died of TSC in April last year, leaving a 13-year-old daughter, who had inherited the disease.
The mother's death underlined the serious consequences of TSC, and the government added mTOR inhibitors to the formulary after local organizations protested outside the government headquarters.
But Yuen's daughter does not qualify for a drug subsidy, in part because her tumors are too small, and Yuen's hopes faded.
Her daughter is in her 20s, well past the prime age for treatment. This year, Yuen led the mothers of other TSC patients to approach Swiss pharmaceutical company Novartis, which agreed to a two-year program to collect evidence of mTOR inhibitors' effectiveness, and then submit a report to the government. The company will underwrite 75 percent of the cost of mTOR inhibitors to 30 selected Hong Kong patients under 18.
"When my daughter was young, there were no effective drugs, so we missed out on the prime time for treatment," Yuen said.
Now that potentially useful drugs are available, she said that as association president she would "spare no efforts helping other younger patients so that they won't experience the misery that we did".