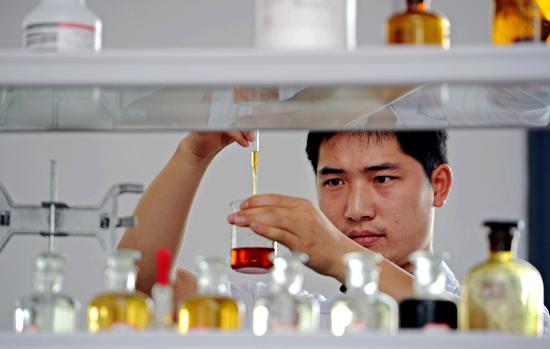 A researcher tests a biofuel made from cooking oil in Shangrao, Jiangxi province. (Photo/Xinhua)
Nation targets broad-based energy mix, reduced carbon emissions
Clean, green energy has become a growth industry in China, driven by the need to reduce carbon emissions and cut the air pollution choking major cities.
The country's clean energy industry already provides more than 1 million jobs and will create even more in the coming years as the government steps up its production of biofuels, aimed primarily at the transportation sector.
As the world's largest overall carbon dioxide emitter, China faces a major problem with air pollution.
Climate change mitigation and pollution abatement, particularly in cities, have also become important policy drivers for the government.
The International Energy Agency said that although climate change and energy security are of concern to China, it is not clear which of these has been the primary motivator for the development of biofuels.
The policies China has implemented to help develop biofuels have resulted in the country becoming the world's third-largest ethanol producer. Ethanol is made from processing crops such as sugar cane or corn. It is then mixed with petroleum to produce E10-a biofuel that is 10 percent ethanol and 90 percent petroleum.
The government has mandated that E10 petrol be made available at gas stations throughout the country by 2020.
The country's biggest oil refiner, China Petroleum & Chemical Corp, or Sinopec, is building a biodiesel (B5) plant in Shanghai to refine used cooking oil, or "gutter oil", with plans to supply the finished product to 200 gas stations across the city. B5 is a mix of 5 percent used cooking oil and 95 percent diesel.
Both E10 and B5 will help reduce carbon emissions from vehicular exhaust and cut air pollution in China's urban centers.
Analysts say these developments have significant implications for the country's drive to broaden the base of its energy mix, achieve energy security and cut emissions.
"Biofuels are renewable, versatile and environmentally friendly. They are an ideal alternative to fossil fuel," a senior official with the National Energy Administration told Xinhua News Agency.