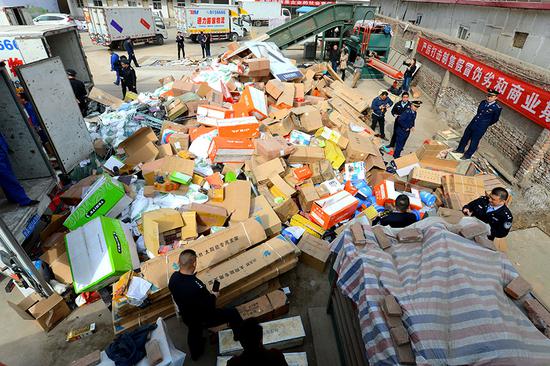 Officers from the Chengguan district branch of the Lanzhou Administration for Industry and Commerce in Gansu province destroy counterfeit goods they seized last year.(Photo by Pei Qiang and Niu Jing/for China Daily)
It also set up an anti-counterfeiting alliance, with the number of members reaching 105, covering 16 countries and regions. The alliance includes well-known brands such as Adidas, Microsoft, Apple and Louis Vuitton.
The alliance said it has destroyed 247 workshops producing and selling fake goods over the past year and helped police to detain more than 300 suspects, adding that the amount of money involved in the cases was 1 billion yuan.
Alibaba said it will further increase investment and cooperate with law enforcement agencies to crack down on counterfeits.
JD has adopted a zero-tolerance attitude toward fake products sold on its online shopping platform, and taken action in a wide range of fields to ensure consumers can buy high-quality and authentic goods.
The e-commerce giant has two business models-direct sales and marketplace. For direct sales, JD said it takes goods directly from suppliers and merchants to ensure that the products are genuine, puts them in its warehouses and then sells them directly to customers.
It said the marketplace model enables well-established, reliable third-party vendors to sell products after a thorough review process. Meanwhile, it has cooperated with third-party testing organizations to carry out regular checks on commodities to ensure their quality.
Industry insiders said the internet has led to consumption patterns being upgraded, and affected and changed consumer behavior, making it easy to expose fake products. Due to the openness of e-commerce platforms, once third-party vendors who manufacture and sell counterfeit products are expelled from one platform, they might continue illegal actions on others.
Wang Huie, a senior analyst at internet consultancy Analysys in Beijing, said: "The problem of fake products has always existed, and most of the fake goods can be found in third-, fourth-and fifth-tier cities and rural areas. The appearance of such goods on e-commerce platforms is due to the lack of a strict and effective review mechanism to exclude fake goods."
Wang said many consumers living in rural and remote areas cannot afford well-known brands, and tend to buy copycat products that are much cheaper than the authentic goods.
"Pinduoduo should step up efforts to inspect third-party vendors' qualifications, raise the entry threshold and screen out fake goods by virtue of artificial intelligence, big-data algorithms and consumers' evaluations," Wang said.
Li Junhui, an intellectual property researcher at the China University of Political Science and Law, said, "Only through cooperation among multiple parties can we stop the circulation of counterfeit goods from source and prevent them from endangering the market order and harming the legitimate rights and interests of consumers."
Dong Yizhi, a researcher at China's E-Commerce Research Center, said combating counterfeiting is a long process, but online platforms should spend considerable amounts of money and use all technological methods necessary to fight IPR infringement and the sale of fake products.