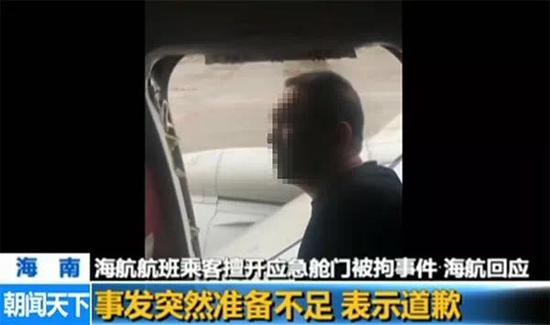 Hainan Airlines apologized on Saturday. /Screenshot from CCTV News
What would you do if your flight was delayed for hours and you were forced to remain in the cabin during the entire time? This happened to a Chinese passenger, who lost his patience after being stranded on the tarmac for four hours. He responded by opening the plane's emergency exit, but was eventually detained by police.
Hainan Airlines made an apology on Saturday regarding the incident, saying that if the cabin crew gave updates to the passengers during the hours-long wait, things could have been much better. The company also promised to improve their services when dealing with long flight delays in the future.
The flight HU7056 bound for southwest China's Chongqing City took off from north China's Taiyuan City on Wednesday evening before it was forced to make an emergency landing in Chengdu Shuangliu International Airport at 2:10 am on Thursday due to bad weather at the destination.
The flight then remained on the airport runaway for four hours, with no information on when they would depart.
Suddenly, a male passenger, identified as Xue, lost his temper, opened the emergency exit, and even tried to jump out at around 6 am. But he was soon subdued by security on the flight and sent back to his seat.
Finally, by 8 am, all of the passengers were allowed to disembark and were sent to a hotel arranged by the airport before Xue was taken off the plane by the police.
The police gave Xue a 10-day administrative detention according to the country's public security punishment law.
Another passenger onboard, identified as Jia, told CCTV that the flight was supposed to take off at 7:40 pm, but was delayed due to bad weather, so they had to wait in the airport hall for three hours before finally departing at about 11:30 pm.
Jia said that the cabin crew had told them due to a shortage of fuel and parking areas at the airport, they had to remain on the runway.
The airline later responded, saying that the bad weather in Chongqing grounded a lot of flights, so they didn't have enough places to park.
Therefore, the airline noted, to ensure passenger safety, the flight had to remain on the runway while the passengers waited, and would allow them to disembark as soon as there was a vacant parking spot.
The CCTV news channel reported that though the passenger's actions were inappropriate, the airline held responsibility since the cabin crew had failed to clearly explain the situation to the passengers.
According to the Provisions on the Punctuality Management of Flights issued by China's Ministry of Transport in 2016, when a flight is delayed by more than three hours, airline companies should arrange passengers to wait off-flight under safe conditions. If passengers have to remain on the flight, then the cabin crew should notify them with updates every 30 minutes.