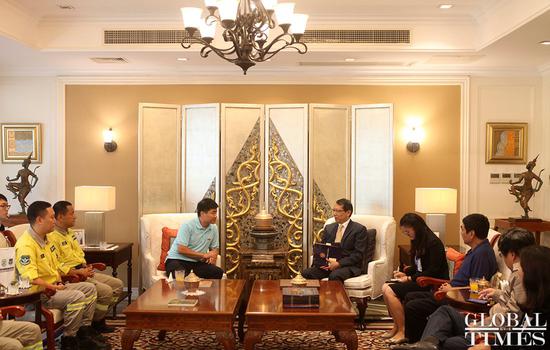 Thai Ambassador to China Piriya Khempon talks with members of the two Chinese rescue teams during a reception held in thanks for participating in the Thai cave rescue on July 18. (Photo: Cui Meng/GT)
Thailand will reform the travel industry to welcome Chinese tourists in a "better" way, Thai Ambassador to China Piriya Khempon said Wednesday, adding that the investigation into a boat accident that killed 47 Chinese is ongoing.
The remarks were made at a lunch at the embassy to honor the efforts of China's Peaceland Foundation and Green Boat Emergency Rescue teams. The two teams participated in the rescue operation of 12 boys trapped in a flooded cave in northern Thailand, together with rescue teams from the UK, the US and other countries.
The Chinese teams brought high-tech equipment and were very cooperative with teams from other countries, said Khempon.
He told the Global Times that the people of Thailand are also very grateful for the help from the Chinese teams.