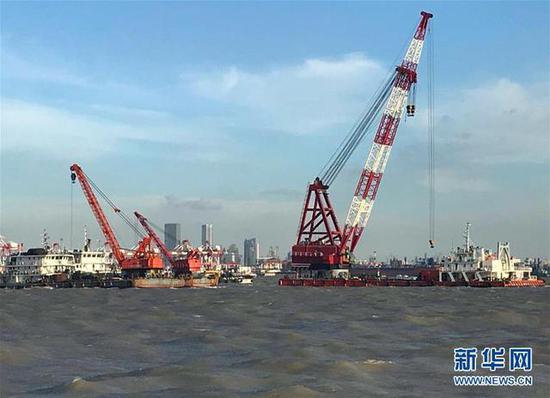 The scene of rescue operation after a cargo ship sank off Shanghai. (Photo/Xinhua)
The bodies of seven sailors have been found and another three remained missing following the sinking of a cargo ship off Shanghai's Wusongkou port on Sunday, according to the Shanghai Maritime Administration's Wusong branch, which is overseeing the mission.
The search will continue, it was quoted as saying in Red Star News, a Chengdu-based media organization.
Loaded with 3,000 metric tons of steel, the Shunqiang 2 collided with another cargo ship, the Yong'an, in waters off Wusongkou port at 1:30 am Sunday. The port is located at the mouth of the Huangpu River where it joins the Yangtze River.
According to Ship Data Tech, a Beijing-based company that provides real-time ship tracking, the Shunqiang 2 was sailing in the Yangtze and bound for the East China Sea. It then turned south to its destination - Guangzhou, Guangdong province. The Yong'an was coming from Guangzhou and was about to turn upriver into the Huangpu when it collided with the Shunqiang 2.
A total of 13 sailors aboard the Shunqiang 2 went into the water. Three were rescued.
The search for the remaining sailors continued with a team of divers, a search helicopter and more than a dozen ships, along with 73 volunteers from Blue Sky Rescue, a nonprofit organization that has been involved in many rescues since 2007. It used drones and sonar to search for the sailors.
Wu Quan, general manager of Quanqiang Marine Shipping, owner of the Shunqiang 2, told Southern Metropolis Daily that the sailors on board came from Fujian, Shandong, Jiangsu and Heilongjiang provinces.
Around 300 of their relatives arrived in Shanghai on Wednesday and awaited the search result, according to Red Star News.
"As the investigation into the collision hasn't been released, it's hard to know what happened exactly," said Xiao Yingjie, a professor at Shanghai Maritime University. "But errors by the sailors or miscommunication between the two ships could be the cause of the tragedy."
It was the second major incident this year near Wusongkou. In January, two cargo ships, the Xinwang 138 and the Changping, collided at midnight. The search was called off after 82 hours, with eight people still missing. They have not been found.