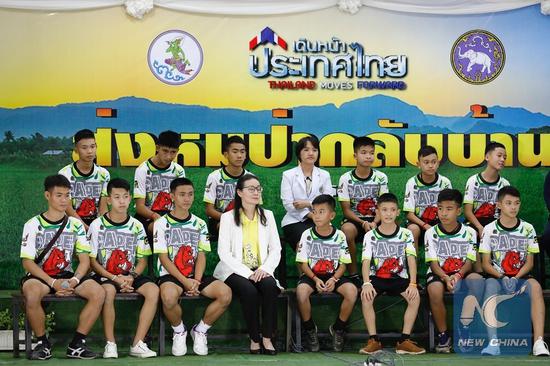 The 12 boys and their football coach rescued from a flooded cave in northern Thailand made their first public appearance here at a press conference on Wednesday. (Xinhua/Rachen)
The 12 Thai young footballers and their coach rescued from the flooded cave in northern Thailand made their public appearance on Wednesday, promising to be more careful and live their lives the fullest.
The boys, aged between 11 and 16, together with their coach, 25, wore T-shirts emblazoned with a red graphic of a wild boar and gently kicked footballs when they turned up at the press conference here in Chiang Rai.
Adul, 14, described the moment they were found as miraculous. He said "hello" to the British divers who found them in the dark and submerged cave on July 2.
The boys said they tried to stay calm and encouraged each other that there is hope of life when they were trapped in the deep cave.
Coach Ekkapol said they brought no food into the cave and survived with clean water from the rocks of the cave. He taught the boys to meditate, as a way to save their energy and calm them down.
The boys mourned over the volunteer diver, a former Navy SEAL who died in the rescue operation, apologizing to families and those who joined the rescue for their carelessness.
Talking on their dreams, most of the boys said they want to be professional footballers. Some said they want to become one of the Navy SEALs who played the essential role in the rescue mission and wished to help more people.
They said the experience in the cave taught them to be more patient and strong, as well as never lose hope in distressed moments.
The 13 went missing in an inundated cave in Chiang Rai on June 23.
They were located after the search, joined by international rescue teams, entered the ninth day. Rescuers managed to extricate them out of the cave in a three-day operation starting from July 8.
Rescuers had to pull the boys, weak and starved, through the frigid waters of the cramped, flooded, 4-km-long gantlet that had already killed one expert diver.
The rescue operation turned into a nearly three-week-long story of survival, international collaboration and triumph over the impossible, which touches the global nerves.
They have been staying in hospital for observation for more than a week. They went home after the press conference.
Officials urged media to leave them privacy for further recovery.