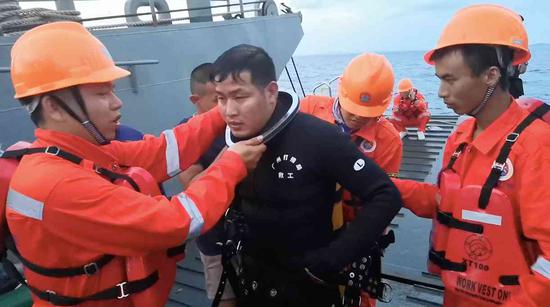 One of members of Chinese rescue team. /CGTN Photo
Special: Thai Boat Tragedy Rescue Operation
A team of Chinese rescuers involved in the recent Thailand boating incident returned to the Chinese city of Guangzhou on Monday.
The two tourist boats, Phoenix and Serenata, overturned in rough seas in southern Thailand's Phuket on July 5. All the passengers on board Serenata were rescued. There were a total of 89 tourists on board Phoenix, 42 of them were rescued and 47, all Chinese tourists, were killed.
A total of 12 Chinese divers, engineers and doctors were involved in the rescue efforts following the incident two weeks ago. The team was under the Guangzhou Savage Bureau and arrived at the site on July 7, where a boat carrying 89 passengers capsized off the island.
Rescue group leader Wang Renyi, also the director of marine engineering center of the Guangzhou Savage Bureau said his team faced two major challenges in trying to retrieve victims bodies.
"One is the bad weather. The first three days we were there, the waves were around three meters high, and the wind was of force six to seven. We couldn't get down to the bottom. Secondly, around that area waters were as deep as 40 meters, which means our divers could only be operating under water for 20 minutes. They had to switch with each other," said Wang.
Wang said normally the water depth is less than 12 meters, and those conditions are much more conducive for such rescue work. Nevertheless, the rescue braved the elements for days searching in and around the sunken boat, particularly in areas like the canteen, meeting room and corridors where bodies were believed to be.
"The last body of the victim took us days to retrieve. It was at the rear end and was totally trapped under the boat, with only a pair of legs out. The sand in that area was very hard, and we had to use tools to excavate it before pulling the body offshore. That took us some time." said Wang.
The body was retrieved around 6:35 pm local time and transferred to a local hospital in Phuket for identification.
The nine-day joint operation between Chinese and Thai rescue forces went fairly well overall, according to Wang. He said the two teams made plans together, and helped complement one another, with Thai Navy divers better at working with oxygen tanks and Chinese divers prone to use what they called the KMB equipment.
Wang hoped there would be more such international collaboration on joint rescue efforts in the future.